Bear Horror Movies and Movies like The Revenant
Historically bear horror movies are hard to pull off well. Most bear horror movies are either campy, fake-looking, or simply laughable. It's tough creating a bear horror movie – working with real wild animals and honestly bear movies don't really scream blockbuster at the box office. This is the reason why we've decided to create a list of the best bear horror movies we could find. Some are documentaries like the Grizzly Man, some are adventures like The Edge, and movies like The Revenant. Let's begin.
Backcountry (2014)
Backcountry is a Canadian horror movie directed by Adam MacDonald. It stars Missy Peregrym, Jeff Roop, and Eric Balfour. It is based on a real-life bear attack in 2005. Backcountry has some great acting and a solid storyline. But, is it really worth watching? Let's find out! Continue reading for our review! Also, check out our review of the movie's trailer!
This survival horror has an interesting setup, but unlike most horror movies, Backcountry's threat is more subtle and less sensational. The bear is a real threat, and the victims are completely unprepared. However, the film does switch gears a lot to make its message clear and make viewers feel scared throughout. Although there are a few frightful moments, Backcountry is still an effective thriller. It will be a great choice for those who are into the horror genre.
It's an enjoyable horror film that stands out in the crowd of woods movies. The film's structure works almost like a slasher, and its central couple has a fun dynamic. There are also glimmers of rednecksploitation, surreal storytelling, and a nod to the Final Girl. But all of this is not enough to make Backcountry stand out as an exceptional horror movie.
The plot of Backcountry is similar to that of The Blair Witch Project, but it doesn't use the same method of found footage. Instead of a supernatural element, it makes use of the character's own subjective perspective to creep out the viewer. The movie's protagonists experience an unexpectedly terrifying moment when a tree branch snaps. This terrifying moment in their lives leaves them feeling dreadful, even if they can't explain why.
The Edge (1997)
The Edge is a 1997 thriller movie starring Anthony Hopkins and Ben Foster. The film follows a rich, intelligent man named Charles Morse who travels to the woods to read a novel he's just purchased, "Lost in the Woods." His wife, fashion model Rachel, and photographer Robert Green join him on their adventure and are on a search for a native hunter. Unfortunately, their small plane crashes while they're out hunting.
The Edge did a middling business when it first came out but received mostly favorable reviews. It's an unabashedly masculine actioner that spoofs male bravado and turns a victim into the alpha. However, the film's most memorable moments come when the heroes face off against a bloodthirsty bear. The movie features several memorable scenes, including a plane crash and a climactic battle with Bart the bear.
Grizzly Man (2007)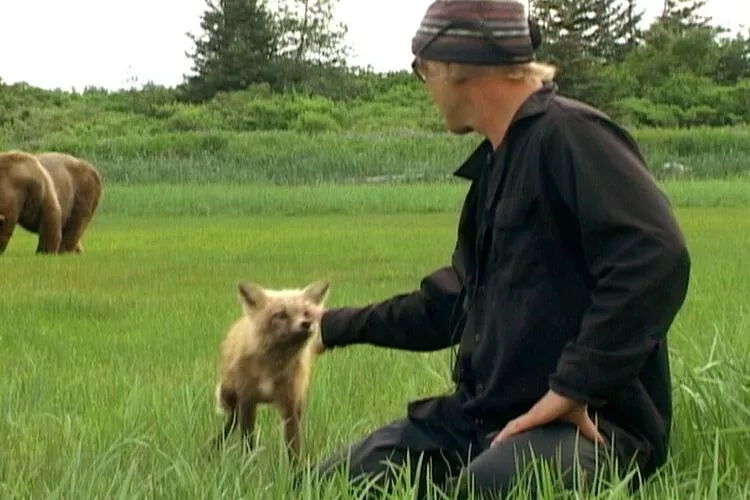 Grizzly Man is a documentary by Werner Herzog about a man named Timothy Treadwell. Treadwell spent thirteen summers living in Alaska among wild grizzlies. In 2003, he was killed by one of the grizzlies, resulting in the film. In it, Treadwell talks to a grizzly through a singsong language. But is this really how grizzlies communicate with man?
The story behind this documentary is quite amazing. This film follows the life of a man who seemingly has no purpose. He is a surreal figure, but he reveals a message of hope for those who are damaged by life. He shows how finding purpose in life can help a person overcome their problems and achieve happiness. It may be hard to believe, but grizzly man can help you feel hopeful.
Although the film is a documentary, it is also a powerful piece of cinema. Herzog shows how one man can connect with the wild, despite the dangers involved. He shows how Treadwell can connect so easily with grizzlies and other animals. He even laments over the deaths of some of them, while he himself shows a lack of emotional control. This film is not without its faults, but it's worth a viewing.
Timothy Treadwell spent thirteen summers in the Alaskan wilderness, where he lived among grizzly bears. He lived with the animals he studied but was killed by one. Treadwell had spent years studying them and gaining national recognition. He and his wife Jewel Palovak established a non-profit organization called Grizzly People to help save the bears. However, his quest turned out to be more tragic than anyone thought.
The Revenant (2015)
If you're planning to see The Revenant, you'll want to know what you can expect from the film. This movie is based on the novel by Michael Punke, which is set in 19th century North America. The movie won a number of awards, including three Golden Globes and five BAFTA Awards, winning Best Film in both shows. It also received 12 Academy Award nominations. Among its many accolades, the film won Best Picture, Best Actor, Best Cinematography, and Best Original Song. Leonardo DiCaprio received several awards for his performance, including the Golden Globe Award, Screen Actors Guild Award, and Critics' Choice Award.
"The Revenant" is a very interesting film. While it is based on a true story, the storyline is not quite as straightforward as it could be. The main character, Hugh Glass, is played by Leonard DiCaprio. Director Alejandro Gonzalez Inarritu and screenwriter Mark L. Smith were responsible for the success of Birdman (2014), which won the Academy Award for Best Picture. The Revenant is the second movie by the pair.
The Revenant is a 2-hour and 36-minute action-thriller that tries to add depth to a typical pulp western. Despite the high violence, overly familiar plot turns, and thin supporting characters, The Revenant is not a perfect family movie. However, if you plan to watch it with your family, you can discuss the violence and the movie's themes with your children. This film is rated R because it contains strong scenes of frontier combat. There's also some language that may be too explicit for children.
Into The Grizzly Maze (2015)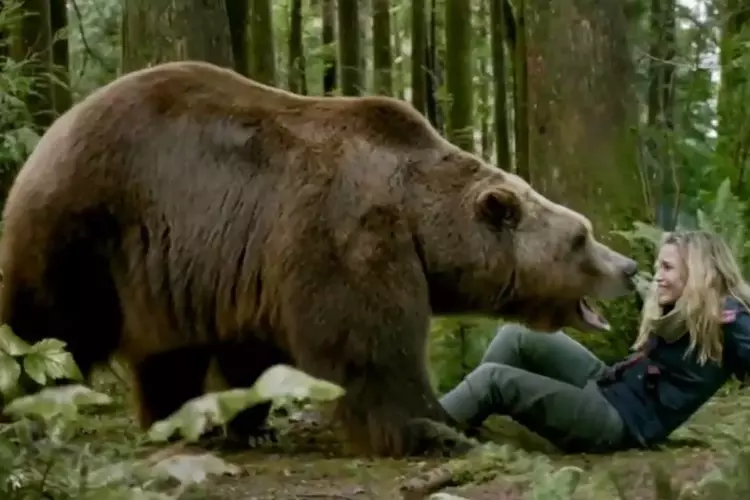 Despite its title, "Into the Grizzly Maze" is far from a fright-filled monster film. Rather, it's a stale man-vs-nature film about two estranged brothers searching for a missing woman. Neither of them are exactly heroes, as they both spend the movie chasing after their friend's missing husband, a wild grizzly bear. But while the premise is good, the film's execution is a dismal failure.
Into the Grizzly Maze is a mixed bag of mixed emotions on environmental politics. On one hand, it insists that it's man's fault the bear is going wild and therefore must be killed. On the other, it's full of male-centric dialogue, which reflects our incoherent hunting sensibilities. Sadly, the film also features a human villain who says the exact same thing as the protagonist.
Rowan is initially reluctant to go into the maze but is eventually forced to. He's enamored with the girl named Kaley and the old car belonging to his dead father. The Grizzly Maze is a dangerous forest, and Rowan and Kaley are determined to find him before the bear harms them. While they're searching for Rowan, Beckett and Kaley get separated. The two girls have to figure out who's responsible.
The Bear (1988)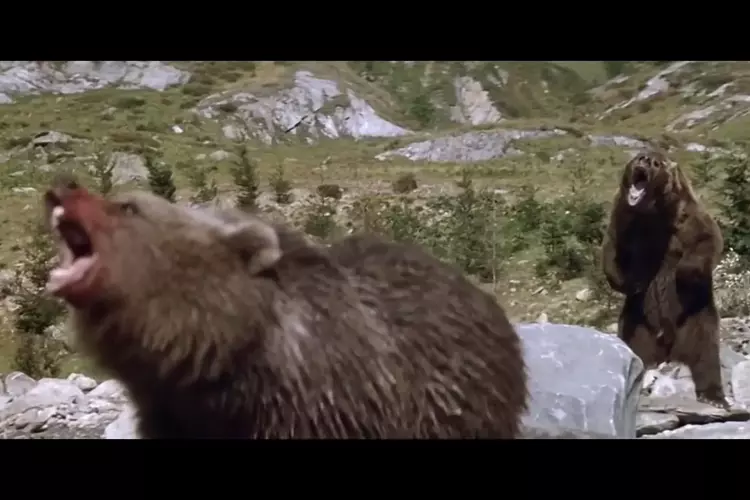 In the bear movie 1988, a young grizzly cub becomes orphaned when a giant rock crushes his mother's skull. The orphaned bear must fend for itself, but he hooks up with an adult male who becomes his guardian. The cub soon discovers that he can survive without the assistance of humans, and he and the male bear form an unlikely bond.
The film is stunningly shot, and its scenes of the Canadian mountains are breathtaking. There are many wallpaper-worthy images, and the score is wonderful. The direction is strong and the pacing is terrific. There are plenty of cinematic moments in The Bear, including the cub's emergence and battle with a cougar. Though the movie is based on a true story, there are several rewatchable scenes that may make you rethink your initial opinion.
Annaud's character, Bart, was also an experienced trainer. Despite the fact that the two were very close, Annaud understood that exceptional performances required close friendship. Ultimately, Annaud filmed The Bear with the hope of telling his grandchildren about it one day. This experience was the first time Annaud had worked with four-legged film stars, and he can tell the story to his grandchildren if he has any.
The story of "The Bear" combines many aspects of the nature film genre. Annaud read James Oliver Curwood's novel The Grizzly and wanted to create a film that captured the "feeling" of being hunted. The $25 million budget he was given was generous enough to make a memorable film. The bear movie 1988
Conclusion:
This list has been a tough search and watch, since there's just too much garbage movies of the sub-genre. We did make some compromises with the selection but these are practically the only ones out there. We hope you enjoyed the movies on the list.