Best Prison Movies List
Our best prison movies list can be pretty interesting, even for people who have never been incarcerated or simply don't like the genre. But these stories are well crafted and their characters well developed. Some movies like shot caller are suspenseful, while others may enjoy the dark humor that often comes out of these films.
Whatever the reason, there's no doubt that prison movies are popular among moviegoers. But why do we enjoy watching them? Is it because they give us a glimpse into a world most of us will never experience? Or is it because they offer us a chance to see some crazy characters and plot twists? Let's start!
Blood In Blood Out (1993)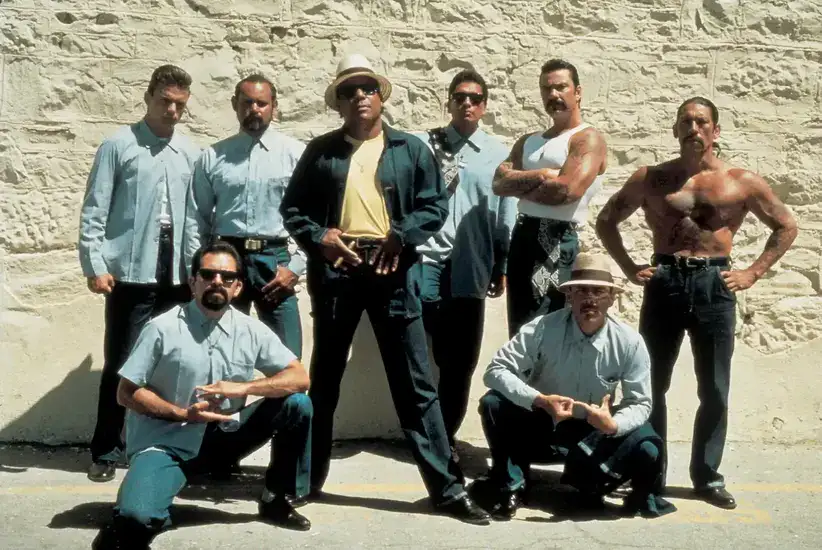 "Blood in, blood out." It's an old prison saying that means once you're in, you can never get out. The movie "Blood In Blood Out" takes that phrase to heart, telling the story of three friends who are forced to choose between their gang ties and their own lives. This is considered one of the best movies about prison culture.
Since its release in 1993, Blood In Blood Out has been a critic and audience favorite. The movie tells the story of three friends – Frankie, Miklo, and Paco – growing up in East Los Angeles during the 70s and 80s. It captures the harsh realities of gang life and the friendships that are formed amid violence.
"Blood In Blood Out" was released in 1993 and directed by Taylor Hackford. The cast includes Damian Chapa as Miklo Velka, Jesse Borrego as Cruz Candelaria, Benjamin Bratt as Paco Aguilar
American Me (1992)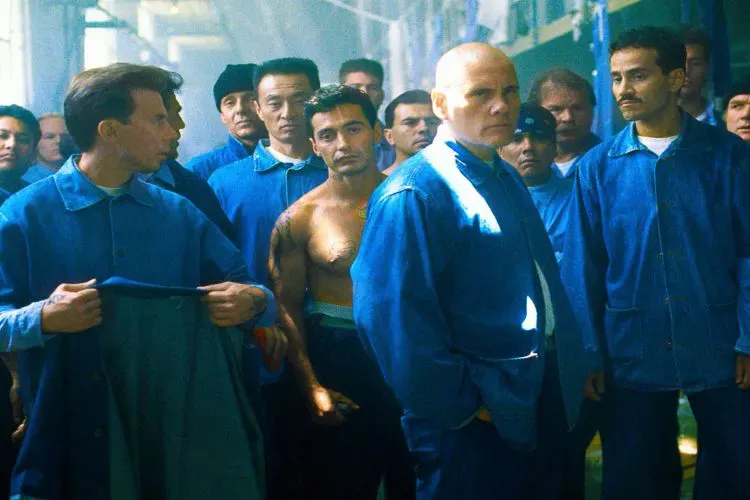 American Me is a powerful and gripping film that captures the stark realities of life in the prison system. Directed by Edward James Olmos and starring Olmos himself alongside a stellar cast, the film follows the story of one man's journey of self-discovery and redemption.
The film centers around the character of Santana, played by Olmos himself, who is a former gang leader who has been sent to prison for his part in a deadly gang fight. In prison, Santana is determined to turn his life around but is thrust into a world of violence and corruption. He struggles to find himself and his place in a world where he is no longer in control.
The film powerfully conveys the realities of the prison system and its struggles to rehabilitate inmates. It shows how the prison environment can be oppressive and how inmates can easily become trapped in a cycle of violence. Despite this, the film also offers a glimmer of hope as Santana finds redemption and a renewed sense of self.
American Me is a powerful and moving film that shows the harsh realities of life in prison, as well as offers a glimpse of redemption. It is a must-see for anyone wanting to gain insight into the prison system and the struggles faced by inmates.
American History X (1998)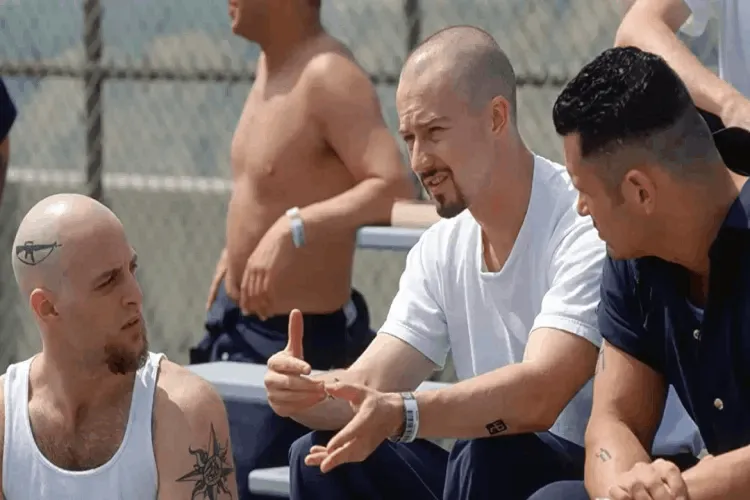 American History X is a powerful and thought-provoking drama that offers a poignant look at the destructive effects of racism and hate in society. The film follows Derek Vinyard, an emotionally troubled young man who is radicalized by his father's death and becomes a white supremacist. Through his journey from racism to redemption, the film powerfully conveys the importance of understanding and empathy in overcoming prejudice.
The film's exploration of racism and its effects is both insightful and heartbreaking. Derek's story is a stark reminder of how hate can spread, and how damaging its consequences can be. The film's unflinching look at racism and its underlying causes is both eye-opening and chilling, and its themes of redemption and understanding are inspiring and uplifting.
American History X is an intensely moving film that is sure to leave a lasting impression. With its powerful performances and unflinching look at racism, the film is an important reminder of the need to fight hate with understanding and compassion.
Felon (2008)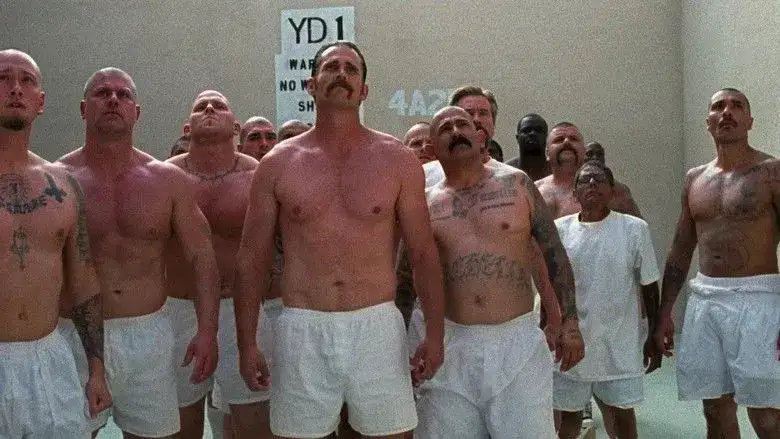 Felon is a 2008 American action thriller film directed by Ric Roman Waugh and starring Stephen Dorff, Val Kilmer, Marisol Nichols, and Vincent D'Onofrio. The film follows the journey of a man who is wrongfully convicted of murder and must learn how to cope in prison while struggling to maintain his innocence.
The cast of Felon features some familiar faces including Stephen Dorff (Blade), Val Kilmer (Batman Forever), and Vincent D'Onofrio (Law & Order: Criminal Intent). The direction by Ric Roman Waugh creates an intense and gritty atmosphere that helps to ratchet up the tension throughout the film. Felon also has a modest budget of $15 million which is impressive
Shot Caller (2017)
This gripping crime thriller stars Nikolaj Coster-Waldau as Jacob, a family man whose quiet life is upended when he's sent to prison after being unjustly convicted of a crime. One of the better prison gang movies, Shot caller successfully gives the audience a sneak peek at how a short prison sentence can ruin your life forever.
With his world turned upside down, Jacob is forced to adapt to the lawless, violent nature of prison life. But when he finally achieves an uneasy balance, he's ordered by the gangsters who run the prison to kill another inmate. Now Jacob must find a way out before he winds up dead or worse.
Directed by Ric Roman Waugh and with a budget of $5 million, Shot Caller is one not to be missed. The cast also includes Lake Bell, Jon Bernthal
Celda 211 (2009)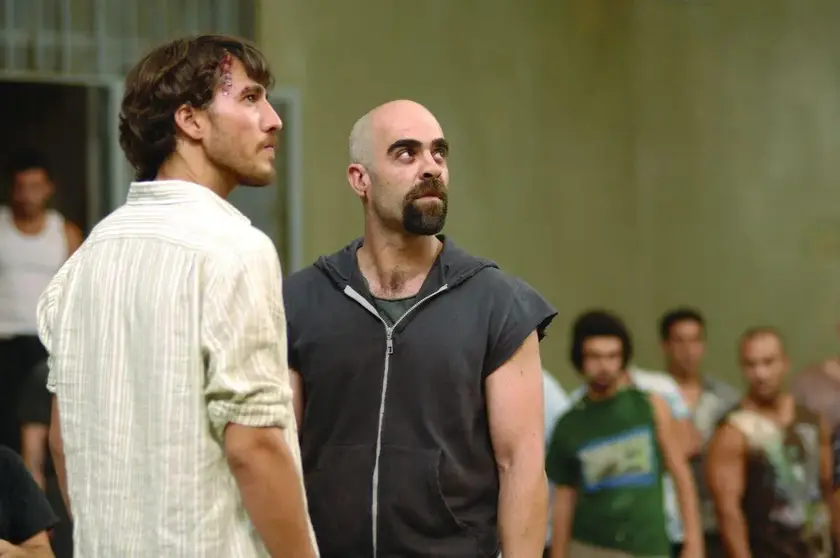 Celda 211 has everything an action movie should have: a compelling story, great acting, stunning visuals, and heart-pounding action. This Spanish film set in a high-security prison was a box office hit when it was released in 2009.
It tells the story of an inmate uprising, meanwhile, a newly-hired guard reports for work as the riots start. He then pretends to be a new inmate with great success, maybe too much for his own good. The riot leader then takes a liking for him and he becomes one of his advisers. He then must cover his tracks and prevent the truth from coming out or else.

This film is directed by Daniel Monzón and stars Luis Tosar and Raúl Arévalo. It was shot on a budget of €2 million and grossed over €17 million at the box office. If you're looking for an edge-of-your-seat thriller, Celda 211 is definitely up your alley.
Chopper (2000)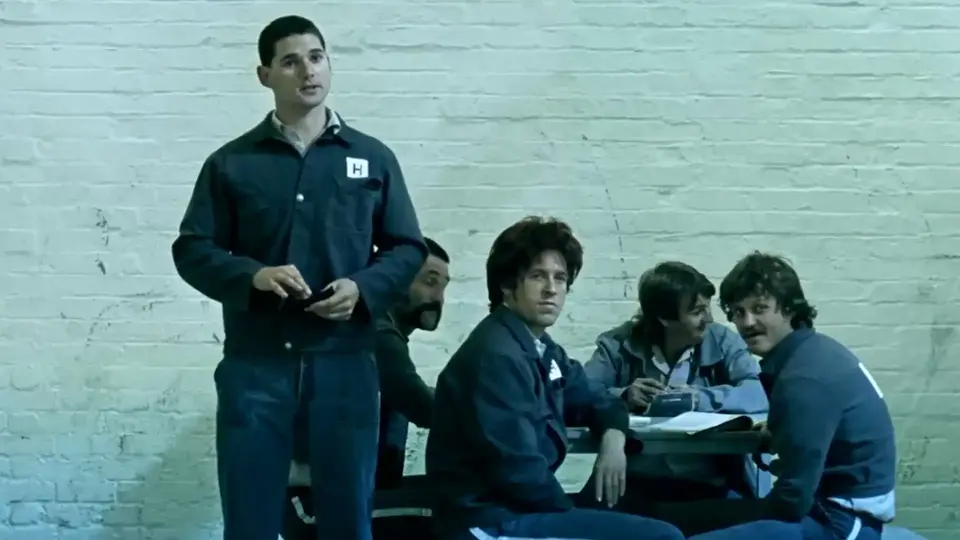 If you're a fan of prison movies, then Chopper is definitely a movie you need to check out. Starring Eric Bana in one of his earliest roles, the film tells the story of real-life Australian criminal Mark "Chopper" Read. Based on Read's own memoirs.
The film chronicles his life of crime, starting with his early days as a small-time crook and culminating in his eventual imprisonment. Along the way, we see Chopper's transformation from a relatively normal man into a violent psychopath who revels in causing pain. It's a disturbing but ultimately captivating portrayal, and Bana is excellent in the role.
If you're looking for a good dose of violence, humor, and drama, then this is the perfect movie for you. And even if you're not typically into this genre, Chopper is still well worth a watch. So without further ado, let's take a closer look at what Chopper has to offer.
Bronson (2008)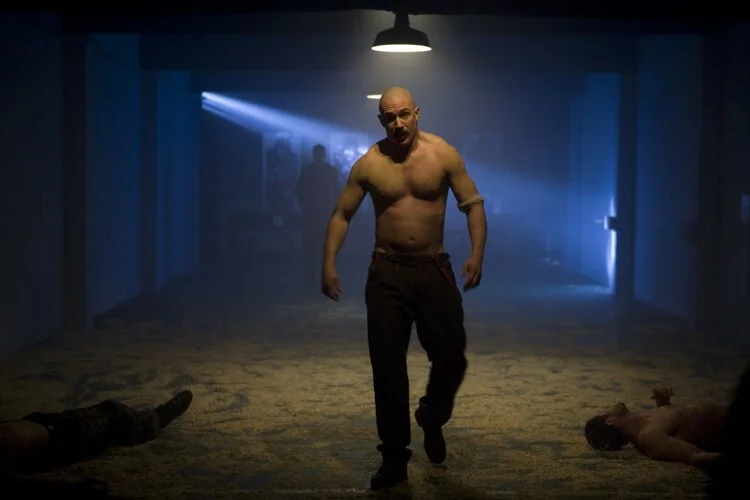 If you're the kind of person who enjoys a good, ultra-violent movie with a lot of hard-hitting action and some great performances, then Bronson is definitely worth your time.
Bronson is a prison movie following the life of Michael Peterson, aka Charles Bronson (played by Tom Hardy), who is Britain's most notorious prisoner. The prison system is a brutal and unforgiving world, and Bronson gives us a glimpse into the mind of a man who has spent the majority of his life behind bars. Tom Hardy is captivating as the title character, and the supporting cast is equally strong.
It was directed by Nicolas Winding Refn and was released in 2008. Despite a limited release and a fairly low budget, the film was met with critical acclaim. If you're looking for an intense, edge-of-your-seat thriller to watch, look no further than Bronson.
A Prophet (2009)
A Prophet is one of those intense prison films that follows the story of Malik, a young man who is sent to prison for 6 years. While in prison, Malik quickly realizes that he must do whatever it takes to survive. He befriends the leader of the prison's Muslim population, and through him learns the ropes of the prison underworld.
As Malik rises to the top of the food chain, he becomes more and more ruthless, until he is eventually released from prison a changed man. A Prophet won the Grand Prix at Cannes and has been hailed as a tour-de-force of French cinema. It is a must-see for fans of crime thrillers and prison movies.
Directed by Jacques Audiard (Rustand), A Prophet was nominated for Best Foreign Language Film at the Academy Awards
Carandiru (2003)
The Brazilian movie about prison Carandiru was released in 2003 and directed by Hector Babenco. The movie is based on the true story of the 1992 Sao Paulo prison massacre, in which over 100 inmates were killed by security forces.
Carandiru follows the story of Dr. Drauzio Varella, who was invited to work as a doctor at the prison. Through his interactions with the inmates, Varella comes to understand the conditions at Carandiru and the challenges they face. The movie provides a rare insight into the world of prison life and the violence that is often a part of it. Carandiru is an important film that brings attention to the issue of prison reform and the need for better conditions for inmates.
With a cast featuring some of Brazil's most famous actors, the movie tells the story of prisoners and guards in one of South America's largest prisons, giving an inside look at life behind bars. Despite its large budget of over $8 million, the movie was met with mixed reviews and only managed to gross a little over $2 million at the box office. Nevertheless, it remains an important work in Brazilian cinema.
On the Job (2013)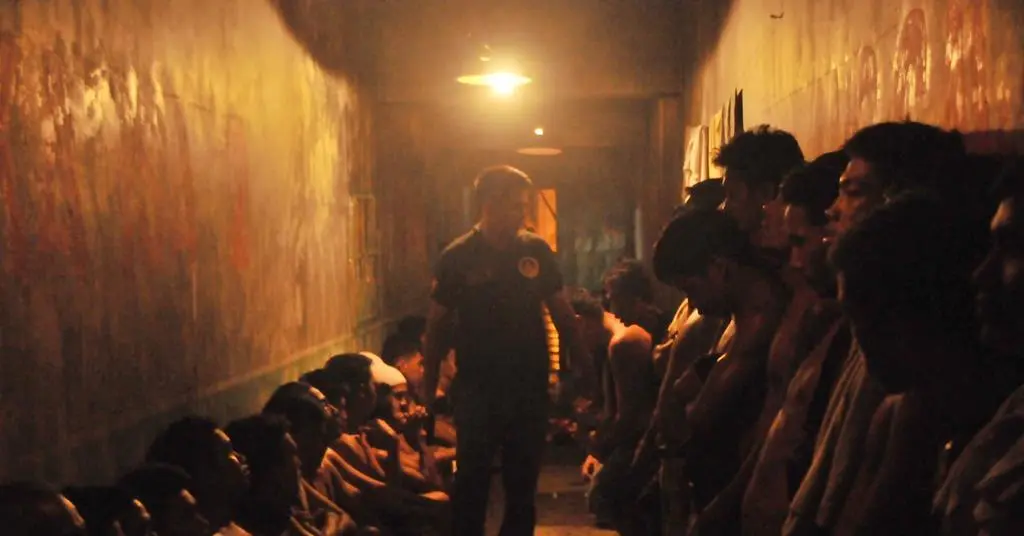 What would you do if you were given the chance to break out of prison and start a new life? That's the premise of the 2013 film On the Job, which follows two prisoners who are released from prison for one day to carry out a hit. But what happens when only one of them wants to retire and the other one wants to take over? Will the young recruit be able to betray his mentor, or will they have to settle it in the ways they both best know?
On the Job is a 2013 prison movie directed by Erik Matti and starring Piolo Pascual, Gerald Anderson, Joey Marquez, Michael de Mesa, and Joel Torre. It was shot on a budget of only PHP 10 million (roughly $220,000 U.S.), making it one of the most low-budget Filipino films ever made.
Despite its low budget, the film is a gem. It is a gritty and realistic portrayal of prison life in the Philippines, and it offers a rare glimpse into the country's criminal justice system. The film was a critical and commercial success, and it was even nominated for several international film festivals. If you're looking for a good Filipino film, On the Job is definitely worth checking out.
A Prayer Before Dawn (2018)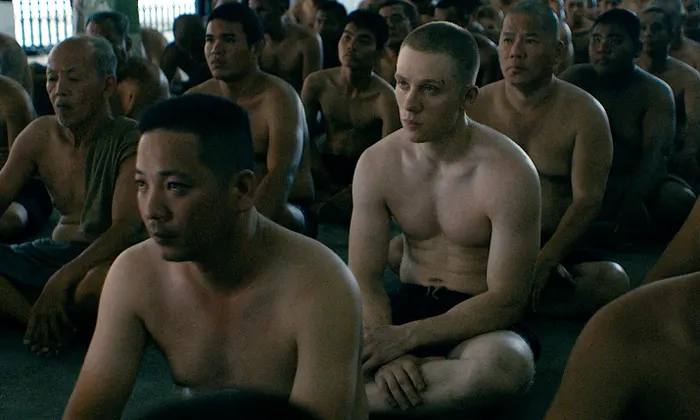 Released on July 20, 2018, A Prayer Before Dawn is a movie based on the true story of Billy Moore, a British boxer incarcerated in Thailand's most notorious prison.
The film was shot at night inside the actual prison where Moore was held captive. Moore was first arrested in Thailand for buying drugs in 2000. He was sentenced to 25 years in prison, but he only served 10 years before being released on parole. In 2010, Moore went back to prison after being caught breaking into his neighbor's house under the influence of drugs again.
However, Moore is no ordinary prisoner. He is a Muay Thai fighter, and he uses his skills to survive in the brutal prison system. The film follows Moore's struggle to stay alive as he fights against drug addiction, violence, and hope.
Directed by Jean-Stephane Sauvaire and produced by Christopher Figg and Randall Emmett, the movie has a budget of only $6 million but has already grossed over $3 million at the box office. The cast includes Joe Cole as Moore, alongside Vithaya Pansringarm and Panya Yimmumphai.
Midnight Express (1978)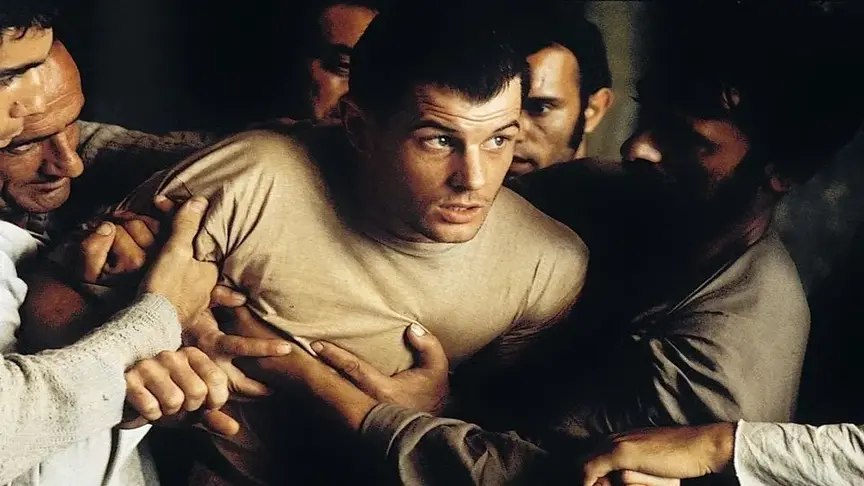 Midnight Express is a 1978 American crime drama film directed by Alan Parker, based on the true story of Billy Hayes and his five-year imprisonment in Turkey for attempting to smuggle hashish out of the country. This movie set a trend for a lot of other prison films that followed.
The cast includes Brad Davis as Hayes, Randy Quaid as Max "Love Shack" Cellent, John Hurt as Paul Rist due to an injury to actor Bob Balaban, and Günter Meisner as Erich.
It also features Irene Papas as Rahmi and Peter Jeffrey as Jimmy. Greek singer Demis Roussos appears in the film as a cellmate named Yanni. The film's screenplay was written by Oliver Stone.
Brawl In Cell Block 99 (2017)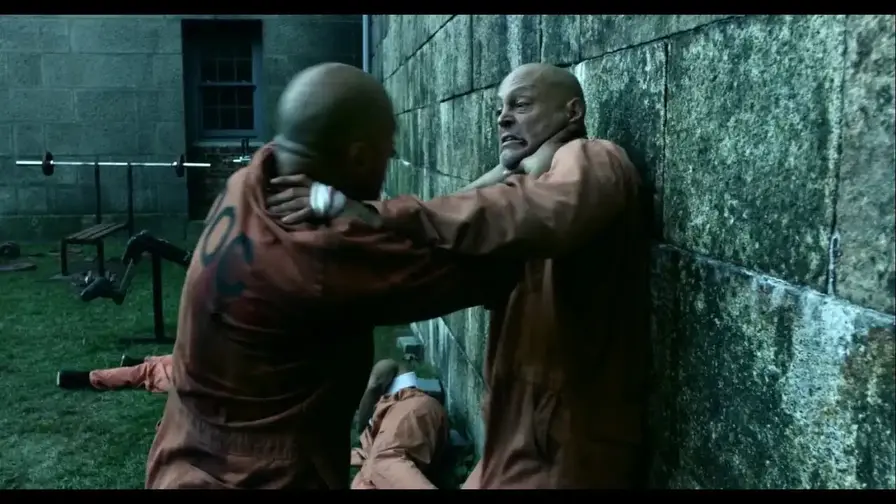 When you think of Vince Vaughn, what kind of movie do you imagine him starring in? A comedy? A drama? thriller? Well, all of those genres are on display in his latest film, Brawl In Cell Block 99. This is one of the most intense and violent movies about prison and is sure to keep you on the edge of your seat.
The cast list for this movie is impressive, with Vaughn leading the pack. He is joined by such luminaries as Don Johnson, Udo Kier, and Jennifer Carpenter. The direction is handled by S Craig Zahler, who also wrote the screenplay. And the budget was a mere $8 million.
The film stars Vince Vaughn as a former boxer who finds himself incarcerated in a maximum-security prison. He soon discovers that the only way to make it out alive is to fight his way through the prison's brutal underground fighting circuit.
Brawl In Cell Block 99 is not for the faint of heart. It is a brutal, violent film that pulls no punches. However, it is also a well-crafted and compelling thriller that is sure to leave audiences breathless. If you're looking for an indie thrill ride, this is the film for you.
Oz (1997) HBO TV Series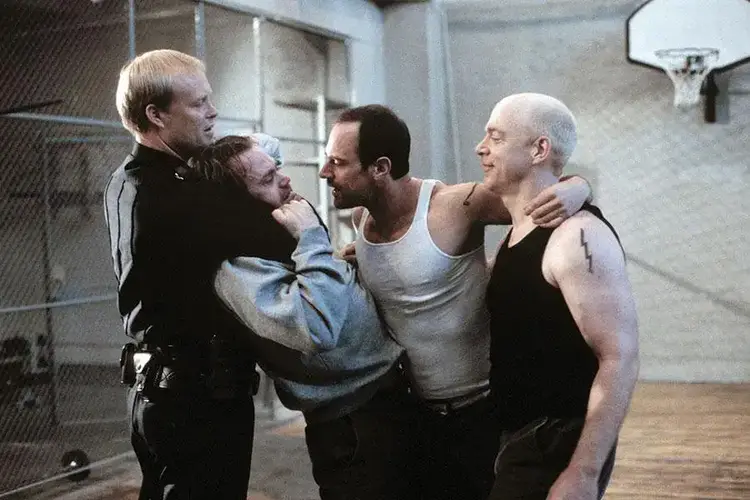 Though this may be a TV Series from HBO back in the day, I feel this iconic TV Series belongs here since it has the same feel as The Wire.
Oz is an American television series that chronicles the events in Em City, a psychiatric facility in Kansas. The series features a large cast of characters, but not everyone survives the events depicted. Various groups are introduced in the series, including the African American Homeboys, which include Adebisi, Wangler, Redding, and Poet.
Other groups include the Muslims and the Supreme Allah, who include Said and Keane. The Wiseguys, whose members include Simon Adebisi, are also featured. Other groups of inmates include the Aryan Brotherhood, which includes Schillinger and Mark Mack, and the Latinos of El Norte, including Alvarez and Morale.
The Oz series was produced by HBO and Rysher Entertainment, who released the entire series on DVD for the North American market. Rysher, which owns the international DVD rights, sold these to Paramount Pictures/Television in 1998. Paramount Home Entertainment/CBS DVD and Paramount Pictures/Television also have DVD rights for the Oz series. The HBO and Rysher releases of Oz contain all six seasons. The Region 1 release of the series contains many special features, while the Region 2 releases do not.
Despite the show's success, the series is often derided by critics. While the majority of the episodes take place in Emerald City, the prison is not a real prison, but instead a fictional maximum-security jail. The name "Oz" is a play on "Oswald," the name of the fictional Commissioner of Correctional Services of New York. Russell George Oswald, who was in charge of the penal system at the time of the Attica Prison riot, may be the inspiration for the show's name.
Prison Break (2005)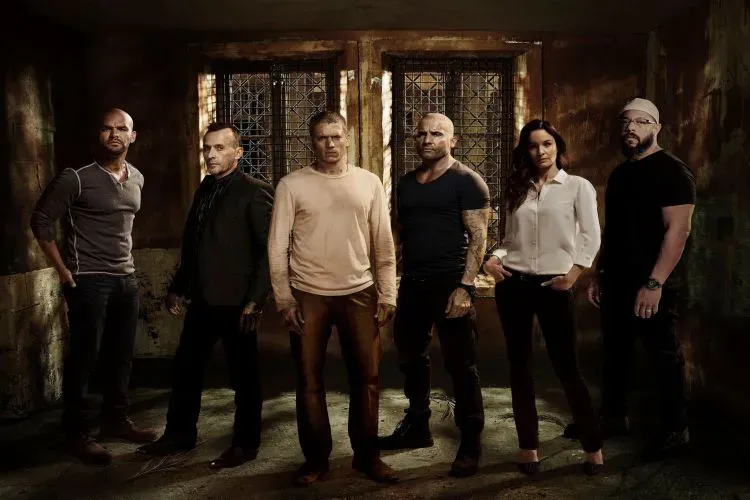 The hit TV series 'Prison Break' (2005) is a masterpiece of television. It tells the story of two brothers, Michael Scofield and Lincoln Burrows, who are on a mission to break out of prison. Michael has been falsely accused of a crime he did not commit, and he devises an elaborate plan to free his brother from prison. Along the way, they encounter a number of obstacles and twists, and the show keeps viewers on the edge of their seats.
The show is a classic example of the crime drama genre. It has all the classic elements of suspense, action, and intrigue, as well as some unexpected plot twists. The characters are also perfectly realized and are incredibly likable. Lincoln is a strong, no-nonsense leader while Michael is the brains behind the operation. The relationship between the two brothers is the backbone of the show and the audience can't help but root for them to succeed.
The production values of 'Prison Break' are top-notch. The show looks and feels incredibly realistic, and the sets and locations are incredibly detailed and believable. The writing is also superb, with clever dialogue and gripping storylines.
Overall, 'Prison Break' is an amazing show that is sure to keep viewers riveted for hours. It's a thrilling adventure, full of suspense and excitement, and is an absolute must-watch for fans of the crime drama genre.