Invincible vs The Boys Matchup Battle
Both Invincible vs The Boys franchises have extreme levels of gore in them. They're also set in almost similar timelines and narratives. Invincible and The Boys feel very similar in a lot of ways and it seems like violent comics turned tv shows are being received very well by audiences. Amazon Prime video is capitalizing on this and it seems there will be more to come in the future. Let's check out these Amazon Prime Superhero battle
2021's Amazon Prime line-up is already shaping up to be one of its most successful seasons yet. The streaming service has just announced a slate of new and returning shows, with the highly anticipated "Invincible" taking the lead. This new animated series is set to take audiences on an action-packed adventure following the story of a superhero who must save the day against all odds. With jaw-dropping visuals and an epic plot, this is one show that you won't want to miss. Be sure to mark your calendars for 2021—the year of invincible!
The Boys is a 2019 Amazon Original series based on the Garth Ennis and Darick Robertson comic book of the same name. The show follows a team of vigilantes as they take down corrupt superheroes with no holds barred. The Boys is full of action, violence, and dark humor, making it a must-watch for fans of subversive thrillers.
Invincible (2021)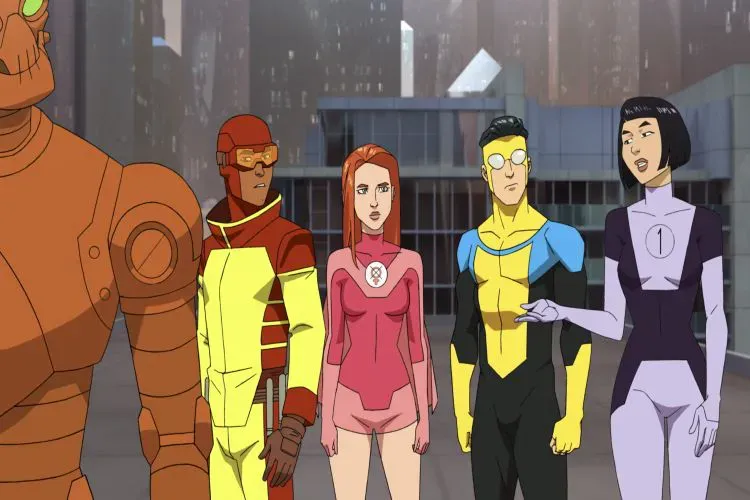 "Invincible" is an animated superhero television series that premiered on Amazon Prime Video in 2021. The show is based on the comic book series of the same name by Robert Kirkman and Cory Walker and was developed by Simon Racioppa and David Alpert.
The series follows the story of Mark Grayson (voiced by Steven Yeun), a teenager who discovers that he has inherited superhuman powers from his father, Omni-Man (voiced by J.K. Simmons), a powerful alien superhero. As Mark struggles to come to terms with his new abilities and the responsibilities that come with them, he must also confront the dark secrets of his father's past and the dangerous threats that threaten the world.
"Invincible" features a talented voice cast that also includes Sandra Oh, Seth Rogen, Mark Hamill, and Walton Goggins, among others. The show has received positive reviews for its action-packed storytelling, character development, and animation style. It has also been praised for its emotional depth and exploration of themes such as family, identity, and the nature of heroism.
The Boys (2019)
"The Boys" is a television series that premiered on Amazon Prime Video in 2019. The show is based on the comic book series of the same name by Garth Ennis and Darick Robertson and was developed by Eric Kripke.
The series takes place in a world where superheroes exist, but they are corrupt and abusive of their power. The story follows a group of vigilantes known as "The Boys" who seek to take down the corrupt superheroes and expose their true nature to the public. The team is led by Billy Butcher (played by Karl Urban), a ruthless and cunning strategist who will stop at nothing to bring down the superheroes.
The cast of "The Boys" also includes Jack Quaid, Antony Starr, Erin Moriarty, and Elisabeth Shue, among others. The show has been praised for its dark and irreverent take on the superhero genre, as well as its compelling characters and storylines. It has also been praised for its commentary on contemporary issues such as celebrity culture, media manipulation, and the abuse of power.
The Boys Gore
The Boys comics series was created by Darick Robertson. It was canceled after six issues He also co-created the TV show which ironically was very successful. Both are quite known for their shocking scenes and ultra-graphic violence. They pull no punches in visually displaying in detail the punishment the villains inflict on their victims.
Anthony Starr is great as Homelander, as he really portrays the perfect evil and powerful supervillain. You really feel uncomfortable whenever the guy doesn't get what he wants, as he perfectly plays the unpredictably insane superhero.
One of the more famous scenes is of a random nature where the superhero speedster "A-Train" smashes through a girl while running in a hurry. This results in a slow motion of blood, guts, and bones slowly flying all around in front of his boyfriend.
Invincible Gore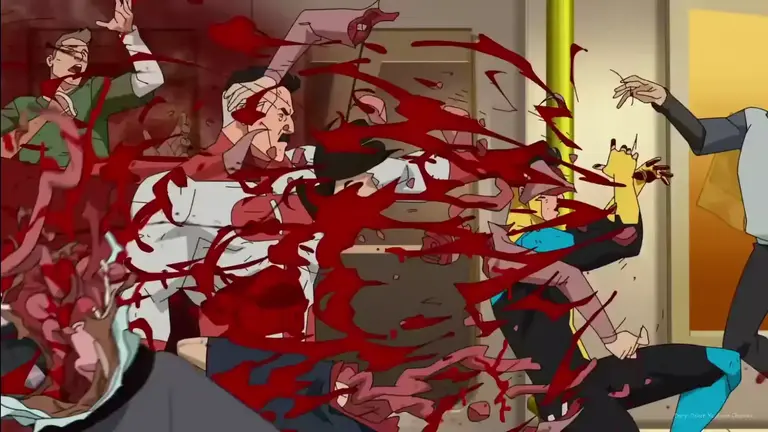 Meanwhile, Invincible the comic and the show was created by Robert Kirkman who was also responsible for the hit zombie comic and show "The Walking Dead" on AMC. It features the voices of such powerhouses as Steven Yuen, "Glen" in the Walking Dead, J.K. Simmons of "Whiplash", and Sandra Oh of "Killing Eve".
It features a lot of horrific ultra-violent scenes which are really jarring. One of which is the infamous "train scene" where Omni Man holds a person on his head and clashes through. Invincible is definitely NOT for kids despite it being an animated series adaptation of a comic book.
Conclusion
In conclusion, it ultimately comes down to personal preference as to which of these two Amazon Prime superhero shows is better. "Invincible" is a more traditional superhero story that follows the journey of a young man as he comes into his powers and learns to use them responsibly.
"The Boys," on the other hand, takes a more cynical and irreverent approach to the genre, depicting a world where superheroes are corrupt and abusive of their power. Both shows have their own unique strengths and appeal to different audiences, so it's up to the viewer to decide which one they prefer.
Question of

Who is stronger overall?

Question of

Which of the two more vicious and relentless?

Question of

In a fair fight, who would win?

Question of

1v1 who would come out on top?

Question of

Dc vs Image Comics?

Question of

Gore level