Who is Brendan Schaub?
Brendan Schaub is a former UFC fighter who transitioned to podcasting and stand-up comedy. Joe Rogan, the famous host of the Joe Rogan Experience and UFC commentator talked him into retiring with the infamous " Talk ".
Brendan used to have a podcast under The Fox Sports channel named The Fighter and The Kid. Along with his co-host and best friend, Bryan Callen turned it into a very successful podcast with the help of Joe Rogan's show. Brendan Schaub has guested the most out of all the JRE guests – around 83 times total.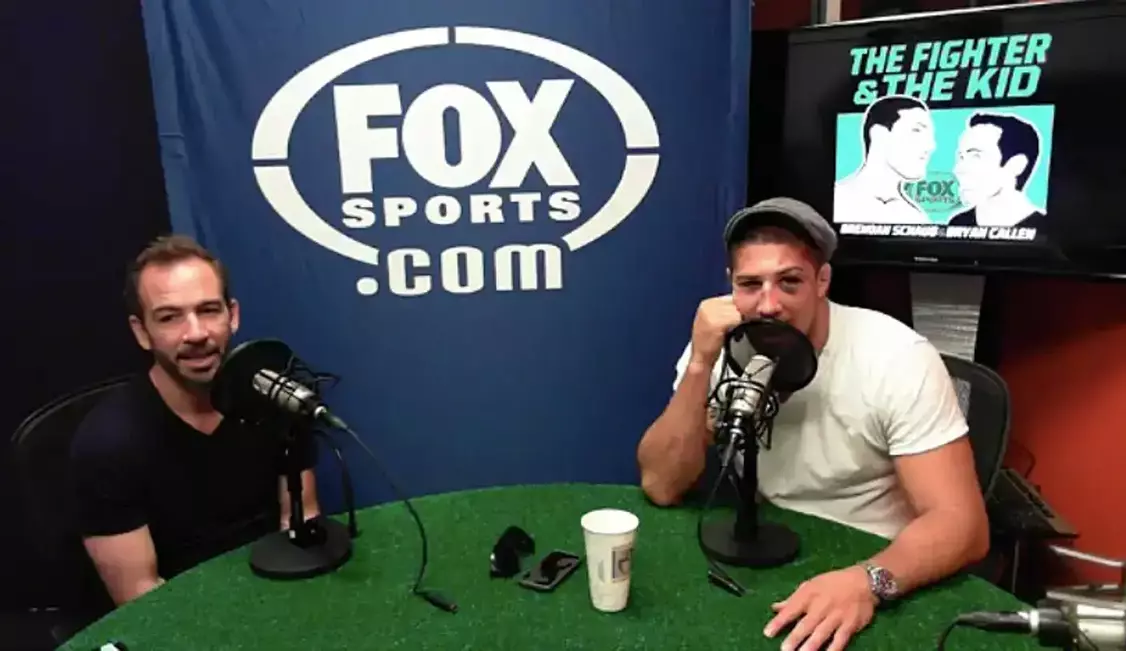 Brendan often lies and brags about a lot of things, and his fans always catch him doing so. This behavior turned most of his fans into what he calls "hayders", or haters in normal English. You see, Schaub has his own way of speaking the English language, and his former fans love to point that out and call them "Schaubisms".
He had a professional UFC record of 10 wins and 5 losses. His last fight was an embarrassing loss against Travis Browne, Ronda Rousey's boyfriend, the former women's UFC champion who she used to date. His claim to fame was beating and knocking out Mirko Crocop, who was about to retire.
Brendan has since done very well for himself after his UFC career was going nowhere. Quitting the fight game and transitioning to podcasting and stand-up comedy proved very lucrative for him because of Joe Rogan. He had a multitude of podcasts after leaving Fox Sports and got picked up by Showtime to do several quality gigs. Paving the way for a successful media career.
Brendan Schaub Net Worth and Lifestyle
Schaub is said to be worth $2 million in his prime. This was at the time when he had projects and gigs left and right with Showtime, a successful podcast, and even podcasts of his own. He bragged about 200-dollar haircuts, expensive shoes, clothes, Rolex Watch, and a Porsche GT2RS.
Brendans' tour dates, ticket sales, TMZ interviews, mysterious ethnicity, gay jokes, tattoos, and football career(?), all seem like a weird recipe for success. Hell it even got him roles in the movie      " The Tax Collector "
The guy just seemed like he hated money and kept buying and selling (mostly at a loss) everything. Let's just say his Instagram and Twitter were just chock full of flexing unironically – this plus a lot of bad behavior made his fans(?) turn on him.
Ariel Helwani vs Brendan Schaub
Brendan always talked shit about people in his podcasts. Dana White was the first to dislike his proclivity to speak on things with authority based only on rumors. His shows were a vehicle to spout such nonsense and baseless commentary that even fighters took offense. Let's just say Below The Belt and the Schaub Show made him a lot of enemies. Ariel Helwani is one of those people.
Helwani launches a verbal drone strike against Schaub, Callen, and his assistant on one of his podcast episodes. He officially declares war on all of them for spreading malicious rumors about him with no proof. He even dares to call him live on the phone which neither of them answers. It appeared that Ariel had enough of Brendan's lies and gossipy nature.
Homeless Cats PF Changs vs Brendan Schaub
Things started to boil between Schaub and his Reddit fans when he started blowing up. The posts on their supposed podcast fan subreddit started leaning more towards criticism of him and how he treated Bryan. You see, people at this point felt Bryan helped him with his entire career as a comedian and podcaster. Schaub's disrespectful nature and loose lips were starting to get on a lot of people's nerves in general.
The subreddit r/thefighterandthekid soon started watching his every move and statement, to hilarious results. Schaub made the mistake of taunting these internet critics, calling them Homeless, Cats, and Cheeto-fingered basement dwellers who did not matter. This name-calling by Schaub was embraced completely by the sub, which resulted in them calling themselves " Homeless Cats ".
The subreddit is also into some role-playing as they jokingly perceive themselves as PF Changs fry cooks. A reference to an old story Schaub once told about the establishment.
Covid, Allegations of Cheating and Sexual Misconduct
Covid hit and apparently, Brendan was selling his old house in Sta. Monica for 2 million dollars and reportedly moving into a lesser-known location. Sold his wife's Mercedes G Wagon for a less expensive and smaller Bronco. His lovely wife, Joanna Zanella Schaub often showed the Mercedes on her Instagram as well, along with lavish designer clothes. Both of them made good fodder for the fan subreddit.
Things started to get visibly worse as Schaub's circle of friends started getting canceled due to allegations of sexual grooming and assault. Schaub himself had some minor accusations of his DMs being leaked. Something the subreddit relished, the infamous peach emoji was his go-to, and the words "gimme".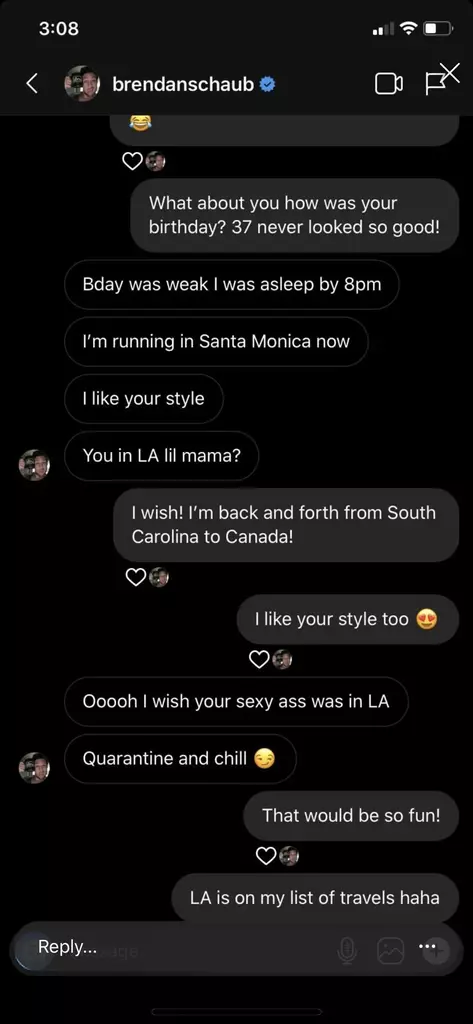 Schaub then decided to bet on himself after trying to start a new brand called Thiccc boi Apparel. He started a Bike club, Merch, just anything to get it going. So he decided it was time to really go HAM even further and started his Whiskey brand named "Tiger Thiccc" Whiskey. Finally, top it off with Thiccc Boi Network, basically just a free youtube podcast with sub-channels.
Brendan Schaub Sues Youtuber "Yew Neek"
Schaub is the type of guy who unreasonably goes after freedom of speech only when it suits him and his buddies. But once Yew Neek exposed his flirtatious activities with a woman in one of his gigs (caught on CCTV), Schaub decided to take down his channel (like with Beige Frequency's Brilliant Youtube Video) courtesy of Bent Pixels Inc. rumored to be connected with Rogan's connections.
Big YouTubers the likes of Penguinz0, The Quartering, H3, and Phil Defranco, call Schaub out on his copyright strike and freedom of speech hypocrisy. The subreddit feels validated and gains notoriety for being the truth sayer. This Schaub dislike has gone critical mass at this point.
Thiccc Boi Empire Starts To Crumble
With everything else falling apart, drinking his whiskey during shows, social media view bots being uncovered mostly by the subreddit. There was nothing Schaub did that the internet did not shed a light on, including attempts at cheating on his wife.
Everything seemed to catch up with Brendan, and it seems he couldn't process what was happening and just decided to double down and ignore criticism. He even buys himself a Ferrari with his Dad Peter Schaub, and rents a big studio for his Thiccc Boi Network. He then, in an evident act of defiance, launches a second comedy special – something his fans or other comics appreciated.
Schaub Held the IMDB Record of Worst Stand Up Special of All-Time, Twice!
His first special "You'd Be Surprised" (a famous quote from the Joe Rogan intervention) got a record of 1.5 stars. His second special 4 years later "Gringo Papi" got 1.1 stars, beating his previous record. This did not deter him from pursuing his career as a standup comic. The user reviews are funnier and the details are edited inaccurately. His Stand Up Comedy Specials are even under the Horror category which is hilarious in itself. The same goes for his Showtime credits under the "Horror" section.
TFATK vs Tigerbelly, Trash Tuesday, and r/thefighterandthekid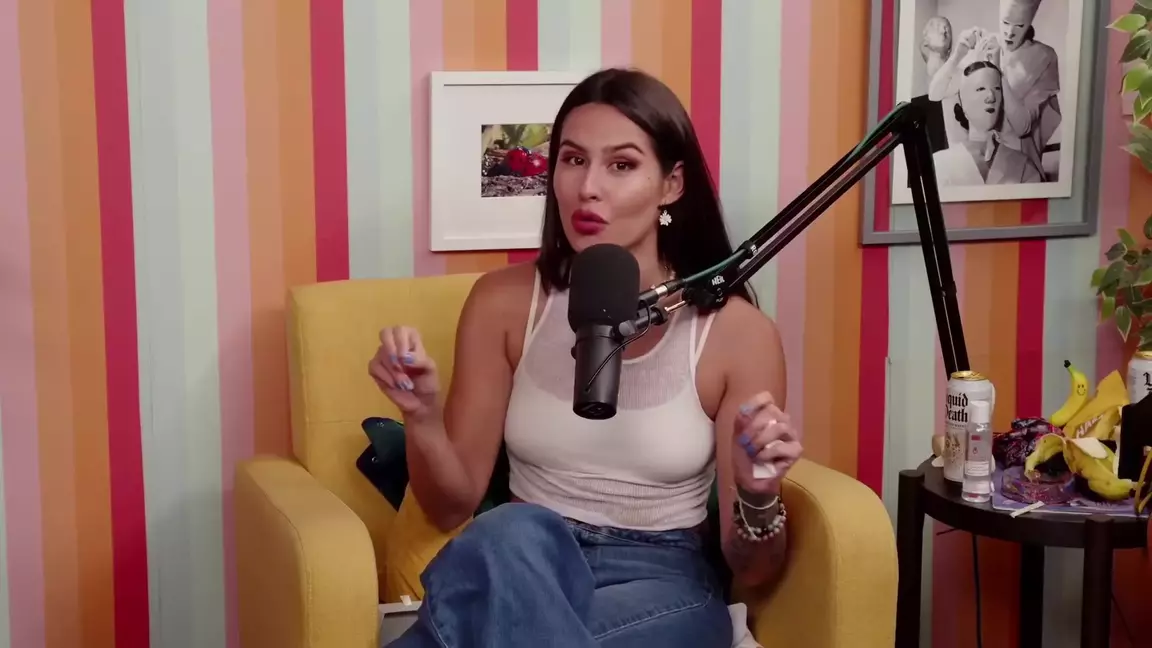 Everything so far culminates in a fiery crescendo of bad luck and karma when Kahlyla Kuhn, (Bobby Lee's girlfriend), Annie Lederman reveals that Schaub once upon a time hit on them while being Married to Miss Mexico Joanna Zanella.
This blows up on the Subreddit and catches fire, going viral and further proving Schaub's infidelity. In a surprising turn of events, in the following podcast episode, they reveal that due to that, Schaub has threatened to sue them (without naming names). Blaming Bobby Lee for masterminding the subreddit, claiming he has evidence and "monster" lawyers worth $500k are on the case.
Bobby Lee and Khalyla Kuhn Go on H3 Podcast, Schaub Apologizes Next
Ethan Klein gets both Bobby Lee and Khalyla Kuhn to promote their show on the popular H3 podcast. Ethan decides to ask them upfront about the whole Brendan Schaub situation and Bobby Lee hesitantly decides to talk about it. He spills everything on the show including the threats by Brendan and Bryan. This puts Schaub in an unwinnable situation because the whole internet is now privy to his duplicitous behavior. The jig is up and leaves Schaub no choice but to admit to wrongdoing.
Schaub then goes on Tigerbelly, Bobby, and Khalyla's podcast to "fix" the whole mess after publicly apologizing alongside Bryan on The Fighter and The Kid. They still make all sorts of accusations based on information privy to them.
But it seems this time the internet, with the help of r/thefighterandthekid PF Changs Homeless Cats has finally helped reveal the kind of people they are. Check out our fun polls below and check how much of a blackbelt you are in the Bapaverse.
TAKE THE POLL BELOW
Question of

MMA Community Who Hate Brendan Schaub

Question of

Comics Who Dislike Schaub

Question of

Youtube Channels Who Dislike Schaub

Question of

Who Do You Think Are Undercover Homeless Cats?

Question of

Rank the Worst Schaub Apologist