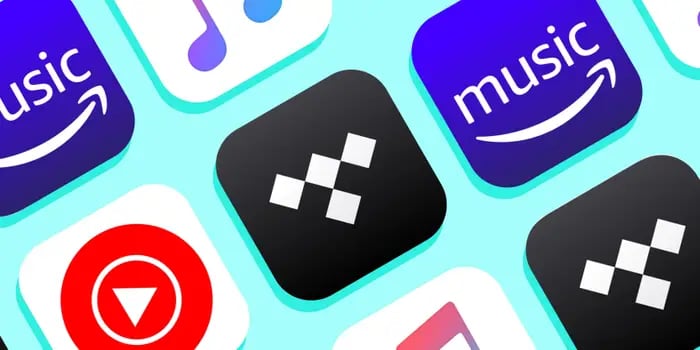 Music is therapy, especially in today's era of streaming services. Music can be easily accessible. Multiple streaming services are out there, so choosing the one best for you needs your attention. Each and every streaming service provides different features. Music lovers can be satisfied by choosing a good streaming platform and plan.
You can have this seamless music experience with the help of streaming services or Music apps. ExpressVPN's research revealed that Spotify has a 30.5% market share in the global market of streaming platforms. However, you need to compare Music apps for their prices, catalog, privacy, and much more.
In case you are finding a good family plan on any of the streaming platforms, then you are at the right place. We have created a detailed guide for comparing family plans on popular streaming services below, so keep reading on.

1. Spotify
Spotify is a music streaming service that allows you to explore millions of songs, audiobooks, and podcasts. Active users of Spotify are in millions. You can expect a wide range of device compatibility on Spotify.
In case you already have decided to choose Spotify as your streaming platform, then you need to know about its family plan. To give you a better idea, I have given below the great features that you should be aware of: Spotify's family plan, so check it out.
Features of Spotify's Family Plan
You can expect a good family plan from Spotify as it is one of the most discoverers in the streaming industry. The family plan of Spotify allows six people from the same family. However, they must be from the same family, and they should have their own Music account.
Can you imagine all the members can get their personal accounts, playlists, and suggestions? With the help of the family plan, they can listen to Music without any hustle.
Spotify Family Plan Price – $16.99 per month
2. Apple Music
Apple Music is also a streaming service owned by Apple. Apple Music was started in 2015, and today, it is one of the favorite streaming services for fans. Thousands of songs, personalized playlists, and original content from your favorite Music artist can give you the best experience.
In case you are new to Apple Music and do not have much idea about this, then you should know the Apple Music family plan features. I have already given below all the features so you can check it out.
Features of Apple Music Family Plan
Just like Spotify, the Apple Music family plan also gives you an advantage of six members. Plus, Apple Music can integrate with all your Apple devices and give you a seamless listening experience. You can easily pair up Apple Music with the ecosystem to get the radio stations and podcast experience. Apple Music streaming service serves as a sharing feature in the family plans much better.
Apple Music Family Plan Price – $14.99 per month
3. Amazon Music Unlimited
Amazon Music is also a streaming platform with a unique concept. Amazon Music is basically an online Music store which is owned by Amazon.
You can get a variety of subscription plans on Amazon Music. The wide library of songs and ad-free listening plans of Amazon Music makes it more feasible. Moreover, Amazon has its own echo devices, which can elevate your Music streaming process more. If you are a master in streaming, you can kickstart your career in streaming by using some top tips.
Amazon Music also gives you six different account access for the family plan. The best part is Amazon gives you an Amazon Prime Video benefit for movies and free 2 days shipping along with the family plan of Amazon Music.
Those who already have invested in Amazon Echo devices should think about Amazon Music.
Amazon Music Family Plan Price – $16.99 per month
4. Google Play Music (Now YouTube Music)
Google Play Music has turned into YouTube Music now. Google Play Music service was started in 2011, and it was discontinued in 2020. This is because Google is serving free Music on YouTube.
However, there are many subscription-based Music plans on YouTube as well. You can try using YouTube Premium service, which offers you ad-free plans, unlimited offline downloads, and many more. YouTube also allows six members for the family Music plan.
YouTube Premium Family Plan Price – $22.99 per month
5. Tidal
Tidal is a video and Music streaming service owned by Block. High sound quality and a huge library of songs are available on Tidal. There are many subscription-based plans on Tidal, and it can be accessed in over 60 countries.
Those who are looking for a family Music plan on Tidal will get six members streaming on it along with the exclusive artist content and HD Music. You can consider Tidal for the family plan as it has many features.
Tidal Family Plan Price – $29.99 per month
6. Deezer999
Deezer is also one of the best streaming services out there. Original content and millions of songs can be expected from Deezer. However, if you are here for a family Music plan of Deezer, then just like other platforms, you can get six members streaming on it. Integrating Deezer with your smart devices is so much easier.
Deezer Family Plan Price – $17.99 per month
7. Pandora
Pandora is the one more well-known name on the list of best streaming platforms for the family Music plan. Six different profiles can access Pandora in the family plan. You can use Pandora for ad-free music service, offline listening, and much more.
Pandora Family Plan Price – $14.99 per month
Conclusion
In conclusion, I have shared all about comparing family plans on popular Music streaming services. Choosing the right family plan for Music streaming depends on many things. You need to check whether the service fits your budget or not, the features of the family plan, access, compatibility, and much more. Check out the above-given streaming platform list to choose the best family plan. Turn your headphones up and enjoy listening to Music. Have a great day!