Sports Movies Based On True Stories
Sports movies have become increasingly popular in recent years, with 20 of the best films of all time being sports-related. From biopics to inspiring underdog stories, these movies capture the spirit and passion of athleticism like no other genre can. This article will explore some of the most popular and critically acclaimed sports movies that are based on true stories.
This article will delve into fifteen of the best sports movies based on true stories that celebrate courage, determination, and heartwarming moments between athletes and their loved ones. Read on to find out which films made it onto this list!
Ford Vs Ferrari (2019)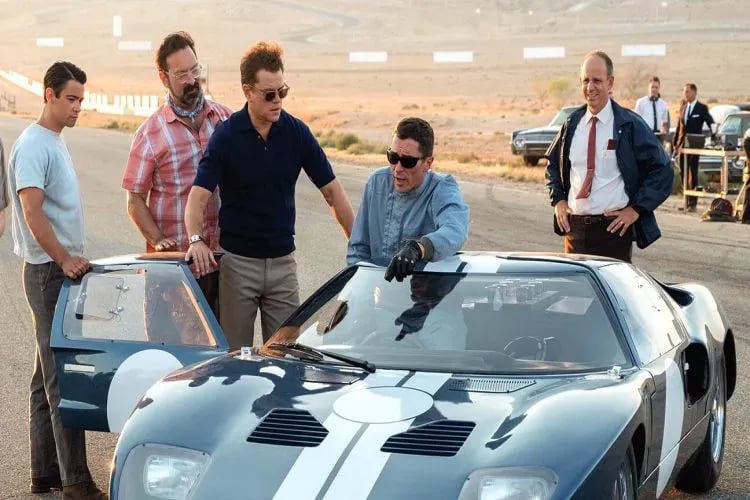 Ford vs Ferrari (2019) is a film based on the remarkable true story of an unlikely partnership between the two iconic car companies. The film follows the rivalry between the Ford Motor Company and Ferrari at the 1966 24 Hours of Le Man's race.

The two companies had been competing in the race for years, but Ferrari had always come out on top. In 1965, Henry Ford II wanted to change that, and he set his sights on winning the 1966 race. He hired automotive designer Carroll Shelby and driver Ken Miles to design and race a competitive car.
The film follows the tumultuous journey of Shelby and Miles as they design and build the revolutionary Ford GT40 to compete against the Ferrari. They face numerous obstacles and setbacks along the way, but their determination and hard work eventually pay off when they win the race.
The film brilliantly captures the highs and lows of Shelby and Miles' journey. Through the story of their partnership, we get to witness the incredible lengths people will go to for their passions. Even the most unlikely of partnerships can produce something truly remarkable.
Ford vs Ferrari is a gripping and inspiring story of ambition, determination, and the power of friendship. It's a testament to the idea that anything is possible through hard work and perseverance. The film is an inspiring reminder of what can be achieved when two unlikely people come together to pursue a common goal.
The film is an inspiring reminder of the power of friendship and collaboration. It's a story of two unlikely people coming together to achieve something extraordinary. As Shelby and Miles work together to build the Ford GT40 and compete in the 24 Hours of Le Mans, they become an unstoppable team. The film showcases how two people can come together to do something incredible.
Ford vs Ferrari is a remarkable story of ambition, determination, and friendship. It's an inspiring tale of what can be achieved when two unlikely people come together to pursue a common goal. Through the story of Shelby and Miles, the film showcases the power of friendship and collaboration. It's a testament to the idea that anything is possible when you put your mind to it.
Moneyball (2011)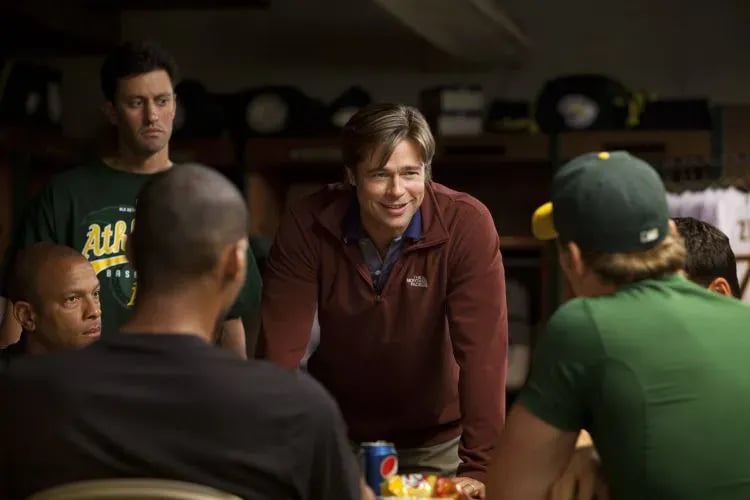 Moneyball (2011) is a biographical sports drama film directed by Bennett Miller, starring Brad Pitt and Jonah Hill. The film was based on the 2003 book Moneyball: The Art of Winning an Unfair Game by Michael Lewis, which follows the story of Oakland Athletics General Manager Billy Beane's attempt to put together a competitive baseball team in 2002. It follows Beane as he uses sabermetrics, an innovative approach to analyzing and valuing players that had not been used in Major League Baseball before.
The use of sabermetrics juxtaposes traditional scouting techniques to form the basis of Moneyball and how it is used to construct the team's roster. Through his analysis, Beane finds value in players who are overlooked by other teams. He builds a winning team despite having much less money than other teams who have greater financial resources. The film also explores how Beane deals with struggles both on and off the field while trying to bring his vision for the team to fruition.
The acting performances are memorable; Pitt delivers a strong performance as Beane, and Hill delivers an equally solid performance as Peter Brand, Beane's assistant. Together they provide an engaging journey through Beane's efforts to revolutionize baseball with sabermetrics and build a winning team from what others have deemed unusable assets.
Moneyball provides viewers with insight into the struggles of building a successful team and overcoming obstacles that may arise along the way. As viewers watch Oakland A's journey under Billy Beane's leadership, this one of those true story sports movies as an example of how failure isn't necessarily permanent when one keeps striving for success no matter what obstacles may be encountered.
Friday Night Lights (2004)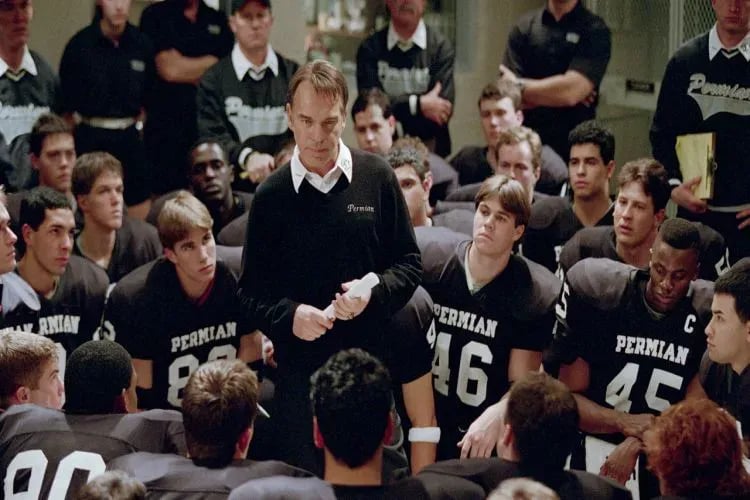 Friday Night Lights (2004) is an incredible sports movie that has stood the test of time. It is a cinematic masterpiece that perfectly captures the spirit and emotion of high school football in small-town America. This movie based on a true story follows the journey of Coach Gary Gaines and his Odessa Permian High School Panthers as they make their way through the 1988 Texas State Championship season.
From the opening scene, viewers are taken on an emotional rollercoaster ride that rarely lets up until the end credits roll. The script is superbly written, with each character having a well-defined personality and sense of purpose. The cinematography is breathtaking, making it seem as though we're actually in Texas experiencing every game alongside the team. It's like a dream come true for any football fan!
The performances of Billy Bob Thornton and Lucas Black are both remarkable. They bring real authenticity to their roles, making it easy for us to empathize with them as we go through their highs and lows throughout the season. Supporting cast members Derek Luke and Connie Britton also give excellent performances; Luke in particular shines as running back Boobie Miles during his struggles with injury.
Friday Night Lights is an inspiring film that celebrates the power of teamwork and determination to achieve greatness – even in difficult circumstances. It will remain one of our generation's most timeless sports movies based on a true story for years to come!
Rudy (1993)
Rudy (1993) is a sports drama film that tells the story of Rudy Ruettiger, a man who overcomes obstacles and realizes his dream of playing football for the University of Notre Dame. Directed by David Anspaugh and written by Angelo Pizzo, the film stars Sean Astin in the title role.
The movie is based on the true story of Daniel "Rudy" Ruettiger, an undersized man who makes up for his lack of size with determination and perseverance. Despite facing numerous roadblocks along the way, Rudy eventually succeeds in fulfilling his dream by making it onto the Fighting Irish team as a walk-on player. Through his hard work and dedication, he earns himself a spot on the roster and scores a touchdown during Notre Dame's 1975 game against Georgia Tech.
Rudy was released to critical acclaim and has become one of the most beloved sports movies ever made. The film was praised for its inspirational message about pursuing one's dreams despite all odds. It also received multiple award nominations, including an Academy Award nomination for Best Supporting Actor (Ned Beatty). In addition, it was selected for preservation in the National Film Registry by the Library of Congress in 2018 due to its cultural significance.
Overall, Rudy is considered to be one of the greatest sports movies ever made and is celebrated for its spirit of resilience and perseverance in achieving one's goals. Its success at the box office solidified it as one of Hollywood's iconic sports films based on true stories.
Remember The Titans (2000)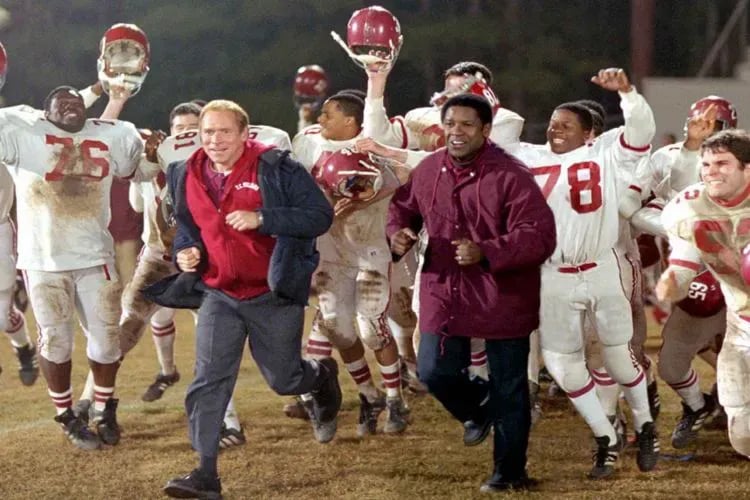 Remember the Titans, a 2000 American biographical sports drama film, is based on the true story of African-American coach Herman Boone and his T.C. Williams High School football team in Alexandria, Virginia. This Prime Time Emmy-nominated movie, directed by Boaz Yakin, is an inspirational story of overcoming racial differences to form a unified team. It depicts how Boone's coaching strategies and perseverance enabled him to break existing racial barriers and lead his team to success against all odds.
The film stars Denzel Washington as Coach Boone and Will Patton as Bill Yoast, another prominent coach in the school's football program; they are forced to work together despite their initially turbulent relationship. As the two coaches struggle to overcome their differences, they find that they can use each other's experience and know-how for the benefit of the whole team.
Like a phoenix rising from its own ashes, their joint effort slowly develops into a strong bond that helps them unite and motivate the players to achieve greatness on the field.
The powerful message of this film is conveyed through intense scenes that depict both victories and defeats with equal fervor. With its electrifying soundtrack, stirring performances from its cast of talented actors, and inspiring message about unity in diversity, Remember The Titans is sure to leave viewers with goosebumps as it vividly captures how one courageous leader can bring about change in society.
While it may not be easy for people to break away from established traditions or ideologies, this movie shows that it is possible if there is enough determination and courage involved!
The Fighter (2010)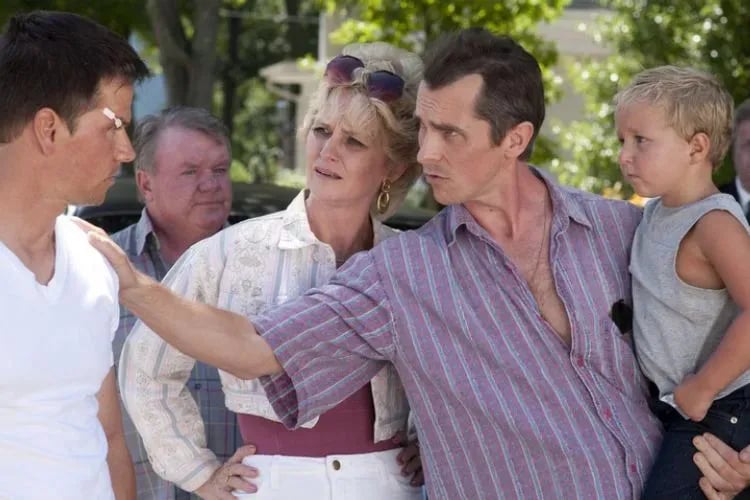 The Fighter (2010) is an acclaimed biographical sports drama, based on the true story of professional boxer Micky Ward and his older brother Dicky Eklund. Set in Lowell, Massachusetts, the movie follows their tumultuous journey as they overcome personal and professional obstacles to achieve their dream of becoming world champions.
Dramatically illustrated by director David O. Russell, The Fighter is a gripping account of two brothers' battle for redemption. It allegorically symbolizes the struggle between good and evil, light and dark; Dicky's determination to find himself versus Micky's burning ambition to become a world champion. Both brothers are portrayed as being on opposite sides of the same coin; while one faces his demons head-on while trying to reclaim his life, the other grinds away at becoming a champion boxer despite all odds stacked against him.
The Fighter successfully captures both brothers' journeys with its raw emotion combined with powerful performances from Mark Wahlberg and Christian Bale respectively playing Micky and Dicky. While Bale was awarded an Oscar for his performance as Dicky Eklund, Wahlberg also earned praise for his determined portrayal of Micky Ward – depicting him as a man who will not be deterred by any obstacle blocking his path to success even if it means sacrificing relationships along the way.
Though seemingly disparate stories at first glance, The Fighter paints an inspirational tale of two men overcoming their differences to achieve greatness together – their mutual understanding allowing them to transcend their circumstances and forge a strong bond that stands the test of time. Ultimately this remarkable story about brotherhood in times of adversity demonstrates how hope can prevail in even the darkest hours – a resounding testament that has inspired many viewers worldwide since its release in 2010.
Hoosiers (1986)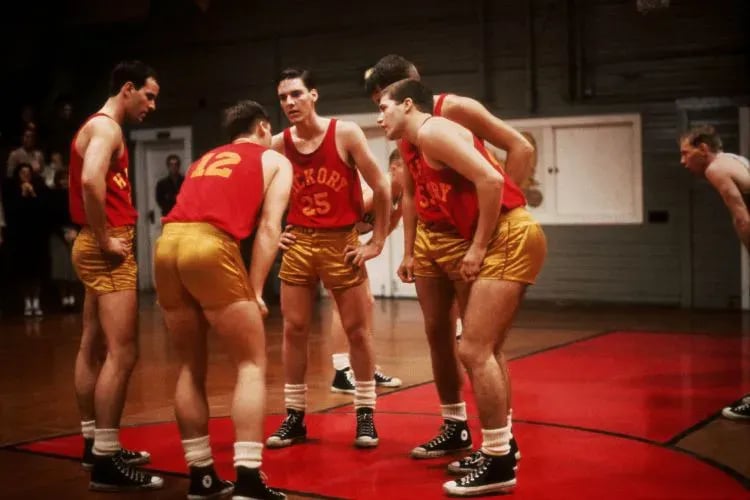 Hoosiers (1986) is a popular sports movie directed by David Anspaugh. Set in the 1950s, the film follows the story of a high school basketball team from rural Indiana as they strive to make it to the state championships. The film features performances from Gene Hackman, Barbara Hershey, and Dennis Hopper, and has been praised for its accurate portrayal of small-town America during that time period.
The movie draws from real-life events that occurred in 1954 when Milan High School won the Indiana state championship against their wealthier opponents. Although there are some exaggerations in terms of how well the team performed, many elements of the plot remain true to history. One notable example is how Norman Dale, played by Gene Hackman, was hired despite having a troubled past as a coach. The film also accurately portrays how racial prejudice was still prevalent at this time, with one of the players being denied access to an all-white restaurant due to his skin color.
Aside from its historical accuracy and engaging drama, Hoosiers has been credited with inspiring countless generations of athletes with its uplifting message about overcoming adversity and working hard to succeed. Its iconic final scene featuring a packed audience cheering on both teams as they shake hands after the game remains an inspiring moment for many viewers around the world. As such, Hoosiers stands out as one of the most beloved and authoritative sports movies based on a true story.
Miracle (2004)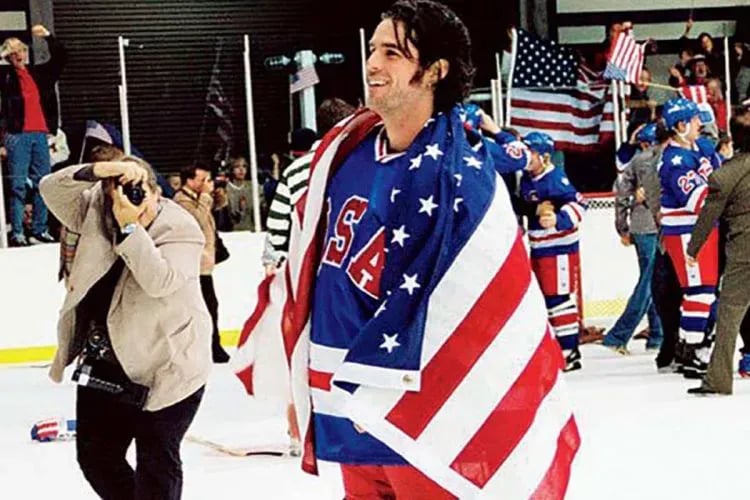 Miracle (2004) is a sports drama film directed by Gavin O'Connor and starring Kurt Russell as the head coach of the U.S. Olympic hockey team, Herb Brooks. The film chronicles the journey of the underdog 1980 U.S. Olympic hockey team to victory over the heavily favored Soviet Union national hockey team in the Winter Olympics at Lake Placid, New York. Despite having limited experience as an international-level coach and an inexperienced roster, Coach Brooks was able to lead his players to one of the most iconic victories in sports history, known as "The Miracle on Ice".
The film focuses on Coach Brooks' unorthodox coaching methods which included intense practices and drills designed to build respect among players and teach them to play as a unit rather than relying solely on individual skill. He also emphasized discipline and demanded that his players give their all when competing against other teams, even if it meant sacrificing personal glory for the benefit of the team.
This philosophy eventually paid off as his team went from being huge underdogs to becoming champions; a feat made all the more impressive given that they were competing with experienced professionals from other countries for whom hockey was a national sport.
Miracle is an inspirational story about perseverance, determination, hard work, and teamwork. It serves as a reminder that anything is possible with enough dedication and passion toward achieving one's goals no matter how daunting they may seem at first glance. While many of the events depicted in this movie are historically accurate, some dramatic license was taken in order to make it more compelling for viewers; nonetheless, it remains one of Hollywood's most popular films based on a true story about sportsmanship and triumph over adversity.
Million Dollar Arm (2014)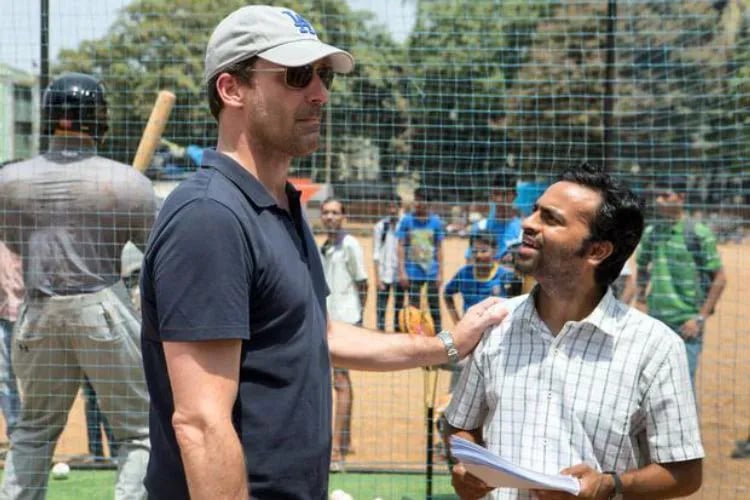 Million Dollar Arm (2014) is an inspirational sports drama film based on the true story of two Indian baseball pitchers, Rinku Singh and Dinesh Patel. The movie depicts how these two young men, who had never seen a baseball before, were scouted by American sports agent J.B. Bernstein to compete in a reality show called "The Million Dollar Arm."
Directed by Craig Gillespie and starring Jon Hamm as J.B., the movie is filled with compelling imagery of India – bright colors and bustling streets, contrasted against the sterile professional settings of Major League Baseball in America – along with themes of hope and ambition.
The storyline follows J.B.'s journey as he attempts to find success through unconventional means, while also learning valuable life lessons along the way. After traveling to India with his partner Aash (Aasif Mandvi), they identify Rinku Singh and Dinesh Patel as potential prospects for the MLB draft. Through rigorous training and hard work, both athletes are successfully signed to pro contracts with the Pittsburgh Pirates despite challenges from fellow scouts and family members back home in India.
Million Dollar Arm captures a unique slice of sports history through its compelling narrative and characters that embody determination against all odds. It highlights how two young men from rural India were able to achieve their dreams through hard work, dedication, and unwavering belief in themselves even when faced with immense uncertainty about their future prospects.
Throughout it all, J.B.'s journey serves as a reminder that success can be found through unconventional paths if one has enough courage to pursue them – no matter where they may lead us in life.
Cool Runnings (1993)
Cool Runnings, released in 1993, is a movie based on the true story of the first Jamaican bobsled team that competed in the 1988 Winter Olympics. It stars John Candy as Coach Irv Blitzer and Leon as Derice Bannock, the team's leader. The movie follows the team's journey toward achieving their goal of competing in the Olympics after facing many difficulties. With its uplifting message, Cool Runnings remains one of the most beloved sports movies of all time.
Just like any other underdog story, Cool Runnings offers an inspiring narrative about working hard to achieve one's goals despite obstacles. This is aptly illustrated by the metaphor of "the power of one," which serves as the film's motto and is best summed up in Derice Bannock's line: "If I can overcome this, I can do anything." Despite ridicule and doubt from others, he never gives up on his dream of competing in the Olympics.
The movie also showcases a strong bond between teammates that transcends beyond mere competition; it is instead based on mutual respect and friendship. As Coach Irv Blitzer once said to Derice: "A gold medal isn't everything; it's not what you take with you when you leave here." This emphasizes that success is not only measured by how well one performs but also by how much effort one put into it and how much one learns along the way.
In essence, Cool Runnings teaches us that striving for excellence should be done for its own sake rather than recognition or rewards.
Through its timeless themes of determination and camaraderie, Cool Runnings continues to captivate audiences around the world more than two decades after its release. Its feel-good story still resonates with viewers today and reminds us that even if we don't always win or get what we want, we can still take pride in our efforts and find joy in our journey simply by never giving up.
Ali (2001)
Released in 2001, Ali is a biographical sports drama film directed by Michael Mann and stars Will Smith, who plays the titular role of the professional boxer Cassius Clay, later known as Muhammad Ali. Utilizing a flashback narrative structure, the film follows Ali's life from 1964 to 1974, focusing on his struggles with racism and his conversion to Islam. The film also highlights his fights with Sonny Liston, Joe Frazier, and George Foreman. Through this story, the audience gets an emotional look at one of the most celebrated athletes in history.
Rhetorically speaking, Ali evokes emotion through its opening scene which shows a young Cassius Clay being racially discriminated against in his hometown Louisville during the 1960s — a powerful and stark reminder of how far America has come since then. This sets up an engaging story that follows Clay's rise to legendary status while tackling issues of racial injustice and religious conviction along the way.
The film showcases some truly remarkable performances from its cast members but Smith stands out in particular for his portrayal of Ali; he captures both Ali's wit and strength that made him one of the most iconic figures in all of sports history. His commitment to playing such a layered character is evident throughout the movie as he brings an incredible level of realism to it.
Additionally, Mann does an incredible job at conveying each moment with great intensity which helps make it feel like you are watching real boxing matches instead of just recreations on-screen.
Overall, Ali is a powerful cinematic experience that paints an accurate picture of one extraordinary athlete's life and career. It features excellent performances from its cast and exceptional storytelling from director Michael Mann which come together to create an unforgettable piece of cinema about one remarkable man's journey from being discriminated against to becoming one of boxing's biggest icons.
The Raging Bull (1980)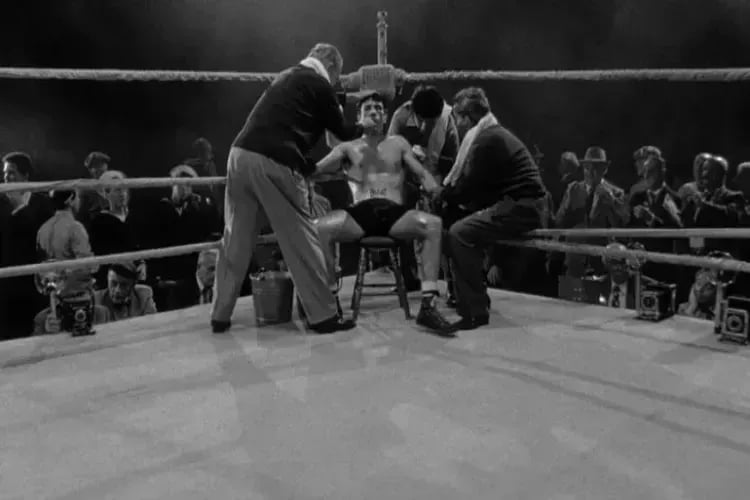 The Raging Bull (1980) is a classic sports film, based on the life of boxer Jake LaMotta. Directed by Martin Scorsese and starring Robert De Niro, the movie is regarded as one of the greatest films ever made. It follows LaMotta as he struggles to make it in the world of boxing while trying to come to terms with his inner demons and personal problems.
At its heart, The Raging Bull is a story about a man struggling for acceptance and redemption in his own eyes. From the outset, Scorsese paints a picture of an intensely passionate, but ultimately self-destructive character – a man consumed by rage and resentment. By depicting LaMotta's inner turmoil through De Niro's intense performance, aided by cinematography that captures every moment of his performances in the ring, Scorsese immerses viewers in LaMotta's journey towards self-discovery and enlightenment.
The Raging Bull has stood out for its honest depiction of how difficult it can be to overcome our personal obstacles and reach our goals. This message has resonated with audiences around the world since it was first released in 1980.
The film has been praised for its technical mastery – including editing techniques that bring out palpable tension in fight scenes – as well as its powerful exploration of themes like ambition, identity, and regret. Without question, The Raging Bull remains one of the most influential sports films ever made.
It is easy to see why The Raging Bull continues to captivate audiences today; despite being released over 40 years ago, its themes remain as relevant and compelling as ever before. Its unflinching portrayal of Jake LaMotta's tumultuous journey toward redemption serves as an inspiring reminder that we can all learn from our mistakes and find a way forward against all odds.
The Rookie (2002)
The Rookie (2002), directed by John Lee Hancock, is an inspiring sports drama based on the true story of Jim Morris, a high school teacher and baseball coach who tries out for the Major League at the age of 35. This captivating movie takes audiences back to 1998 when Morris made history by becoming the oldest rookie to play in the MLB.
It is incredible to think that this underdog story is not only one of hope and determination but also a reminder that it's never too late to chase your dreams. Set in Big Lake, Texas, The Rookie follows Morris as he juggles his job as a science teacher and his coaching duties with his single goal: making it into the big leagues. As time passes and after much hard work and dedication, Morris finally gets an opportunity to try out for Major League Baseball scouts. To everyone's surprise, he makes it into the big leagues!
This unforgettable film showcases how far belief in oneself can take you. Despite being considered too old for professional baseball at 35 years old and having no prior professional experience, Morris achieved his lifelong dream of becoming a pro baseball player regardless of what others thought was impossible. The Rookie demonstrates that if you put your heart into something worthwhile and don't give up on your dreams even when you face obstacles along the way, anything is possible!
Pele: Birth Of A Legend (2016)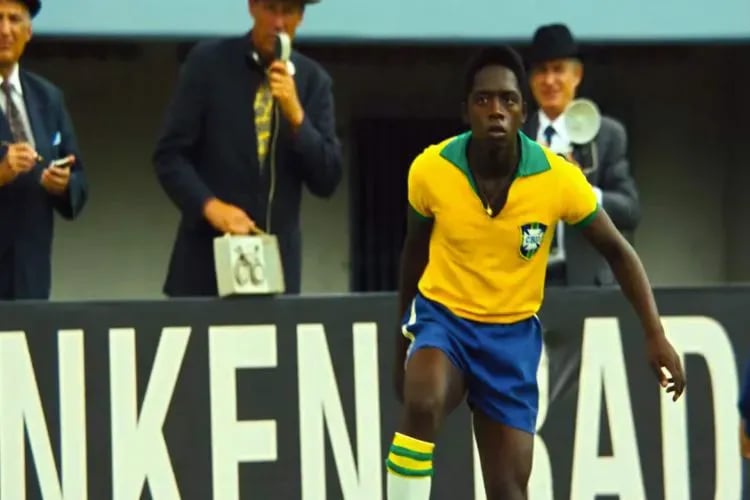 Pele: Birth of a Legend (2016) is a captivating sports movie that tells the story of the famous Brazilian soccer player, Pele. It follows his life journey from childhood to his legendary status as a professional athlete. Like a beautiful ball kicked by an expertly trained foot, this movie traces his career and life path in a mesmerizing and inspiring way.
The film stars Vincent D'Onofrio as Pele's father, and Kevin de Paula as the young Pele. It captures the energy and excitement of youthfulness and love for the game that propelled Pele to international fame. His humble beginnings struggle with poverty, and constant practice makes it easy to sympathize with him as he pursues his dreams. Through these obstacles, he learns lessons about discipline, resilience, and ambition.
The stunning cinematography shows Brazil's diverse landscape from lush rainforests to dusty soccer fields. The vibrant colors of the country are brought to life on screen for viewers to experience through Pele's eyes. This film does more than just present an inspiring story; it also immerses viewers in the culture around him that made his success possible.
Exploring themes such as family, faith, racism, and loyalty; Pele: Birth of a Legend provides insight into how one man became an international icon in spite of tremendous odds. With skillful direction by Michael Zimbalist and Jeff Zimbalist, this movie packs an emotional punch that will leave you feeling uplifted long after its conclusion.
Goal The Dream Begins (2005)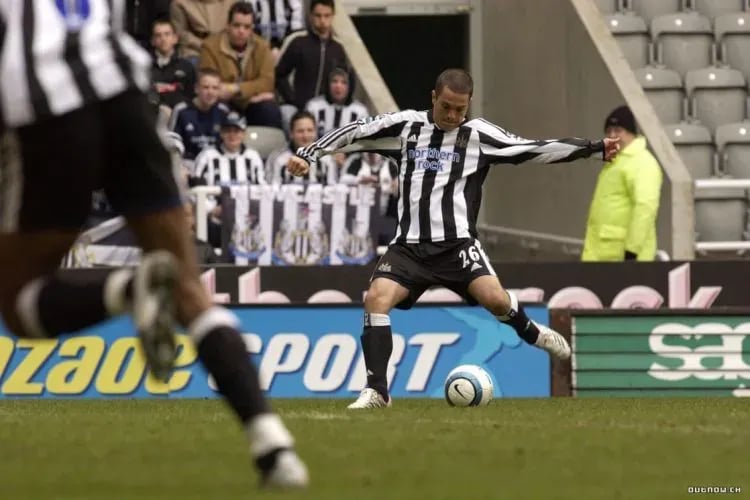 As the adage goes, "Hard work always pays off", Goal The Dream Begins (2005) is a sports drama film that tells the story of Santiago Munez, an aspiring soccer player from Los Angeles. Directed by Danny Cannon and written by Adrian Butchart, the movie follows Santiago as he embarks on a journey to follow his dreams of becoming a professional footballer. His journey takes him to Newcastle United in England where he eventually becomes a star player on the team.
The movie stars Kuno Becker as Santiago Munez, who puts on an impressive performance in his role. He is joined by Alessandro Nivola who plays Glen Foy, Santiago's agent and mentor. The film also features Anna Friel, Stephen Dillane, and Marcel Iures in supporting roles. Goal The Dream Begins has been praised for its realistic depiction of both the game of football and its characters' struggles to overcome obstacles in pursuit of their dreams.
The soundtrack of Goal The Dream Begins consists mainly of songs from various artists such as Moby and Elvis Presley. It also features some original compositions by composer John Murphy which add to the overall atmosphere of the film. In addition to being well-received critically, Goal The Dream Begins was also commercially successful at the box office, grossing over $50 million worldwide during its theatrical run.
Goal The Dream Begins serves as an inspiring tale about chasing one's ambitions despite facing adversity and ultimately achieving success through hard work and determination. With a strong cast and an exciting story, it is no wonder why this movie continues to be a favorite amongst sports fans all over the world more than 15 years after its release.
Invictus (2009)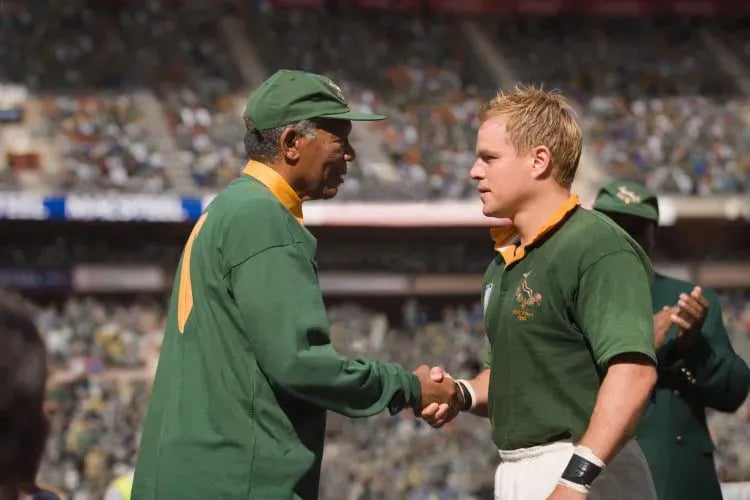 Have you ever wondered what it's like to have a nation's destiny in your hands? Invictus, released in 2009 and directed by Clint Eastwood, is a sports movie based on a true story. It follows the journey of Nelson Mandela who has been elected as the President of South Africa after spending 27 years in prison. With his determination, he sets out to unite his people and bridge the gap between racial divides using rugby as a metaphor, which proves to be an inspiring victory for all.
The movie stars Morgan Freeman as Nelson Mandela and Matt Damon as Francois Pienaar, the captain of the South African rugby team. The film takes us through their journey from apartheid-era South Africa to seeing Mandela create a unified nation through sports. As Mandela inspires Pienaar and his team's players to play for the nation instead of themselves, we witness how their friendship develops over time into one that is built on respect and admiration.
The movie is filled with emotions that range from despair to hope, fear to courage, sadness to joy and so much more. Every emotion felt during this rollercoaster ride is portrayed with precision and depth by its talented cast. The perfect blend of uplifting music complements these emotions perfectly. The iconic opening scene featuring Nelson Mandela walking onto the pitch during the 1995 Rugby World Cup Final sets the tone for an inspirational story that will make you believe in yourself and never give up no matter what life throws at you.
Invictus is an inspiring movie about overcoming all odds against impossible odds with courage, faith, and determination – something we can all relate to in our lives today. It's definitely worth watching if you want your spirits lifted when facing adversity or just need some motivation in life!
Hands Of Stone (2016)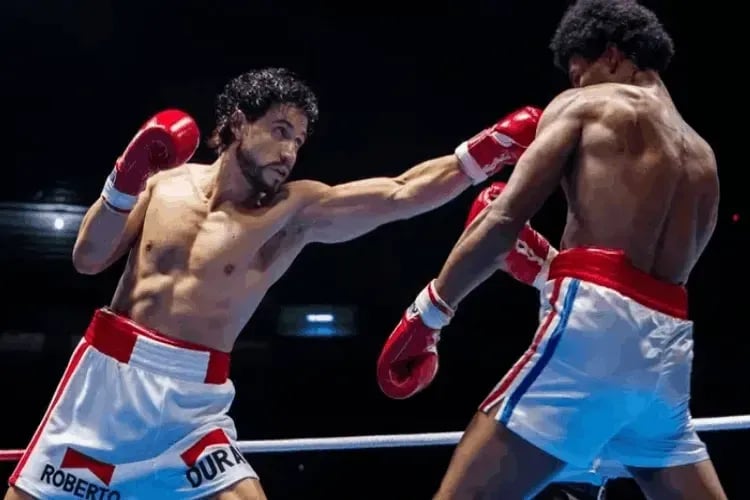 Hands of Stone (2016) is a sports drama film directed by Jonathan Jakubowicz. It stars Robert De Niro as Ray Arcel, a trainer of Panamanian world champion boxer Roberto Durán (played by Édgar Ramírez). The film tells the true story of Durán's rise to fame in the boxing world and his relationship with Arcel. While some may be skeptical of yet another boxing movie, Hands of Stone stands out from the pack for its emotional depth and gripping fight scenes.
The first thing that sets this sports movie apart from other films in the genre is its beautiful cinematography. From sweeping shots of Panama City to close-up shots of Duran's training sessions with Arcel, Hands of Stone takes viewers on an unforgettable visual journey. Additionally, viewers will find themselves quickly drawn into the characters' stories thanks to strong performances by De Niro and Ramirez. The two actors bring a palpable sense of realism to their roles, which helps to make their relationship feel genuine and heartfelt.
Another aspect that makes this movie stand out is its incredible sound design. From the moment you hear Duran's theme song "Lobo Blanco" playing during his fights, you know you are in for something special. The combination of powerful music and realistic sound effects creates an immersive experience that allows viewers to feel like they are right there in the ring alongside Duran and Arcel.
In addition to these technical merits, Hands Of Stone also succeeds at creating tension throughout its runtime despite being based on a real-life story with a predetermined outcome. This is due largely in part to Jakubowicz's tight direction which keeps things moving at breakneck speed during each fight scene while also allowing moments for character growth in between bouts.
Ultimately, it is this combination of strong visuals, strong performances, and strong direction that make Hands Of Stone an absolute must-see for any fan of sports movies or true stories alike.
Tyson (1995 Tv Movie)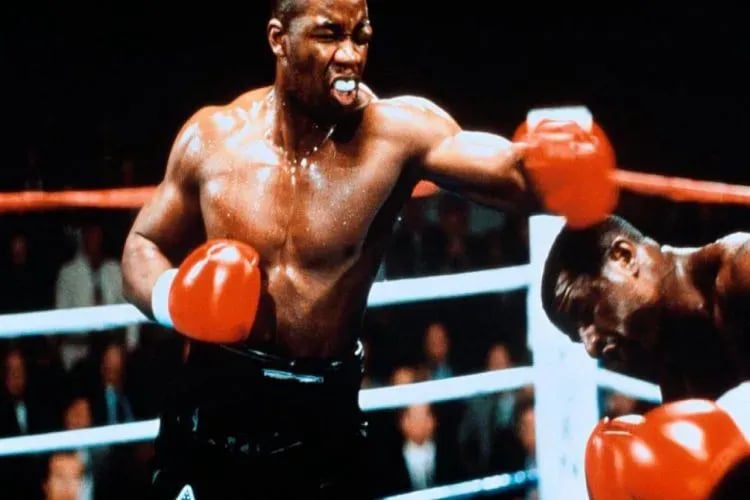 A picture is worth a thousand words and when it comes to the biopic Tyson (1995 tv movie), this adage could not be truer. Directed by Uli Edel, this biographical drama focuses on the life of one of the greatest heavyweight champions of all time: Mike Tyson. Starting from his troubled childhood and ending with his success in the ring, Tyson is an inspiring story that touches upon many themes such as family, crime, self-discovery, and redemption.
The film stars Michael Jai White as Mike Tyson and offers an in-depth examination of the boxer's inner struggles. Through flashbacks, we are able to see how Tyson was shaped by his tumultuous upbringing and how he was able to eventually overcome his difficult circumstances through hard work and determination.
White does an excellent job portraying the various stages of Tyson's life – from amateur to professional fighter – while making sure to include some humorous moments that keep the narrative lighthearted yet captivating.
Tyson also features performances from talented actors such as Paul Winfield, Rutger Hauer, John Leguizamo, George C. Scott, and James Tolkan. The supporting cast adds depth to the film by providing a well-rounded look at those closest to Mike – both professionally and personally – during his rise in the boxing world, including his mentor Cus D'Amato (Winfield).
The combination of White's acting prowess along with strong direction from Uli Edel makes for a fascinating watch that fans of sports movies will appreciate. As far as sports movies based on true stories go, Tyson punches out above its weight class and stands as one of the best examples available today. It is no surprise then that it continues to be a go-to movie for both casual viewers and hardcore fans alike, making it more than worthy of its place among the top 5 sports movies based on true stories.
Bleed For This (2016)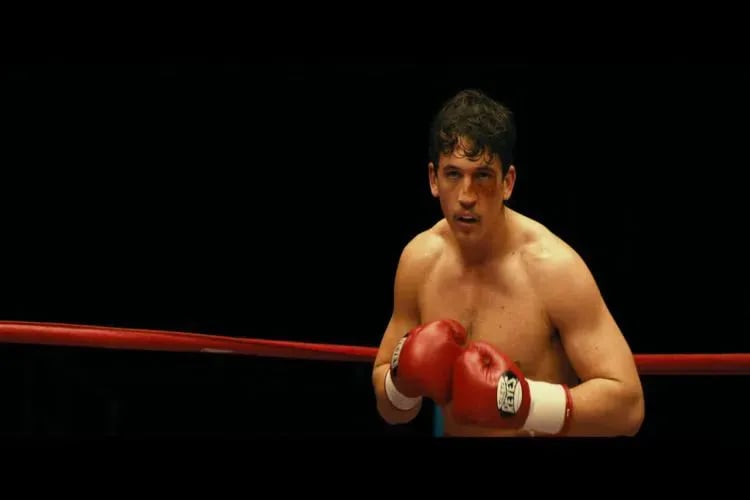 Bleed for this (2016) is a critically acclaimed sports drama film based on the true story of boxer Vinny Pazienza. According to Box Office Mojo, it earned over $6 million worldwide and received an approval rating of 84% from critics. The film follows the story of Vinny overcoming life-threatening injuries to make an incredible comeback in the ring.
Directed by Ben Younger, Bleed for This stars Miles Teller as Vinny Pazienza, Aaron Eckhart as his trainer Kevin Rooney and Katey Sagal as his mother Louise Pazienza. It is set in Providence, Rhode Island, and showcases the struggles of Vinny on his road to recovery from a devastating car accident that leaves him with a broken neck and no ability to walk or box again.
The movie focuses on how Vinny faced all odds and made a return to the boxing world after spending months in recovery. He was determined to make a successful comeback against doctors' advice, which he ultimately achieved when he won back his lightweight title against former champion Gilbert Dele. The movie also talks about how Kevin Rooney helped him through this tough time by providing emotional support and inspiring him to stay focused on his goal despite all odds.
The performances by Teller, Eckhart, and Sagal were praised by critics for their authenticity and chemistry with each other. In particular, Teller's portrayal of the boxer received critical acclaim for its realism and attention to detail which was appreciated by audiences around the world. Bleed for This has been hailed as one of the best sports films based on a true story due to its inspiring message about determination, courage, resilience, and strength in adversity.
Cinderella Man (2005)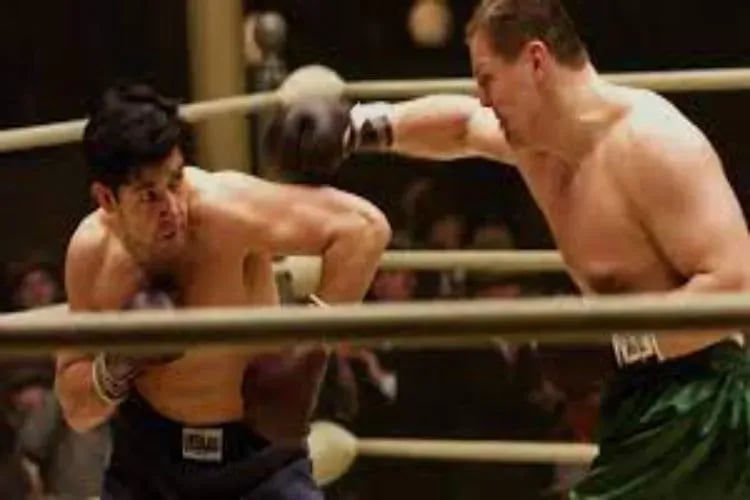 Have you ever rooted for an underdog and wanted them to come out on top? Cinderella Man, the 2005 movie based on a true story, encapsulates that sentiment perfectly. This film stars Russell Crowe as James J. Braddock, who was an up-and-coming boxer in the late 1920s before experiencing numerous losses and injuries that put his boxing career on hold.
The plot follows Braddock's journey from near destitution to becoming a world champion boxer against all odds. His perseverance and determination are what make this movie so inspirational and appealing. Through his struggles, he is able to rebuild his career and find success along with much-needed financial stability for himself and his family.
Not only is this story inspiring and heartwarming, but it also has some great performances by its actors. Russell Crowe is able to bring Braddock's character to life with great nuance and emotion that help the viewer truly connect with him throughout the entire film. Additionally, Renée Zellweger plays Braddock's wife Mae in a compelling manner that makes their relationship all the more engaging to watch.
Cinderella Man is a sports movie that captures the emotion of being an underdog while also providing audiences with some amazing performances from its actors. It shows us what is determined can do when you face insurmountable odds and how hard work will never go unrewarded in the end. This film will have you cheering for its characters every step of the way as they strive for success in one of America's oldest pastimes: boxing!
Conclusion
It is a truly remarkable experience to watch a movie that is based on a true story. The realism and immersion that comes with it make the viewer feel as if they were actually part of the story itself. The 20 top sports movies based on true stories listed above are no exception. Each and every one of them provides an incredibly powerful and unforgettable cinematic experience.
From Rudy's heartwarming journey of reaching his dreams to Pele's inspiring life story, these sports movies offer viewers an emotional rollercoaster ride that will leave them feeling inspired and motivated for days after watching them. They also demonstrate the incredible power of the human spirit in overcoming obstacles and challenging situations, making them excellent sources of motivation and inspiration.
Every single one of these movies is filled with breathtaking cinematography, stunning visuals, and gripping performances from well-known actors. With each movie being even more powerful than the last, it can be said without exaggeration that these 20 top sports movies based on true stories will remain timeless classics for generations to come.