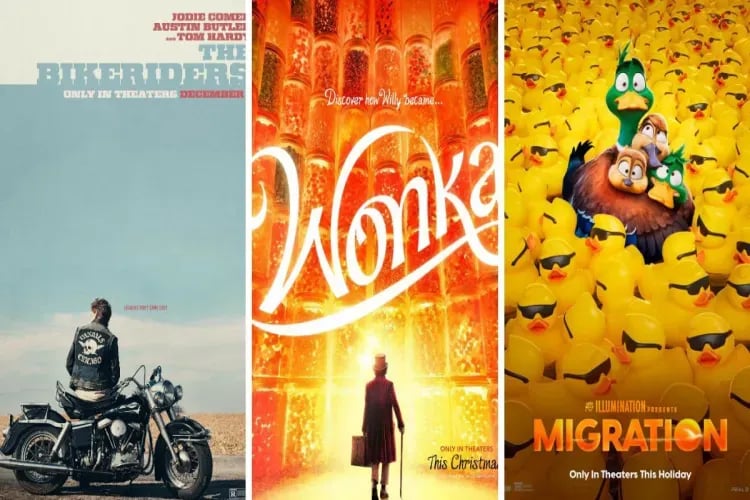 As the holiday season approaches, it's time to cue up your cozy sweaters and consider what great films you can look forward to seeing in theatres this year. This winter, families will have many exciting upcoming movies perfect for a special night out, whether they're seeking quality entertainment or need something to please everyone from toddlers to grandparents! 
To bring you into the spirit of winter cheer, we have researched and compiled five incredible family-friendly films that will be released in theatres near you later this year. Let's journey through five must-see movies for anyone looking for an enjoyable (and safe) cinema experience this holiday season!
1. Wonka
"Wonka" emerges as an upcoming musical fantasy film directed by Paul King, who joins forces with Simon Farnaby on the screenplay. Positioned as a prequel to the beloved 1971 classic "Willy Wonka and the Chocolate Factory, it is an adaptation of Roald Dahl's 1964 novel, "Charlie and the Chocolate Factory."
In the lead role of Willy Wonka, we find Timothée Chalamet inviting us to peer into the early chapters of his journey as an unconventional chocolatier. 
The ensemble cast features a stellar lineup, including Calah Lane, Keegan-Michael Key, Paterson Joseph, Matt Lucas, Mathew Baynton, Sally Hawkins, Rowan Atkinson, Jim Carter, Tom Davis, Olivia Colman, and Hugh Grant in various supporting capacities.
The production of "Wonka" unfolded primarily at Warner Bros. Studios in Leavesden, Watford, with additional scenes brought to life in Lyme Regis, Bath, St Albans, and the enchanting Rivoli Ballroom in Crofton Park, London. 
Notably, Oxford also served as a backdrop during December and February. Neil Hannon takes credit for crafting the film's original songs, while Joby Talbot is the creative force behind the original score.
Mark your calendars for 15 Dec. 2023, as "Wonka" is slated for a theatrical release, courtesy of Warner Bros. Pictures. This cinematic journey delves into the captivating evolution of Willy Wonka, from his youthful days peddling chocolates in a humble candy store to his eventual rise as the eccentric genius known worldwide.
2. Migration
The forthcoming American CGI comic adventure film "Migration" is directed by Benjamin Renner, co-directed by Guylo Homsy, and written by Mike White.
Kumail Nanjiani, Elizabeth Banks, Awkwafina, Keegan-Michael Key, David Mitchell, Carol Kane, Casper Jennings, Tresi Gazal, and Danny DeVito lend their voices to the film. 
The plot follows a family of mallards as they try to convince their overprotective father to let them on a once-in-a-lifetime trip from New England to New York City and Jamaica. The American premiere of "Migration" is set for 22 Dec., 2023.
The Mallards, a typical American family, are at the story's core. Although Mack enjoys life at the family's New England pond, Pam longs to take her children, teenager Dax and duckling daughter Gwen, on adventures to see the world beyond. 
After listening to the fascinating tales of a family of migratory ducks, Pam convinces Mack to take the family on a trip that would take them from the bustle of New York City to the tropical splendor of Jamaica.
3. The Bikeriders
"The Bikeriders" is a 2023 American drama film written and directed by Jeff Nichols. This cinematic work weaves a fictional narrative inspired by the 1967 photo book of the same title by Danny Lyon. The film boasts an ensemble cast featuring talents like Jodie Comer, Austin Butler, Tom Hardy, Michael Shannon, Mike Faist, and Norman Reedus.
Having premiered at the 50th Telluride Film Festival on 31 Aug. 2023, "The Bikeriders" is set for a United States release on 1 Dec. 2023, courtesy of 20th Century Studios. 
The narrative centers on Kathy, a committed member of the Vandals, who happens to be married to the daring and impulsive bike rider named Benny. 
The story unfolds, chronicling the Vandals' transformation over a decade. They start as a local club of outsiders bonded by the pursuit of good times, the roar of their motorcycles, and their deep respect for their steadfast leader, Johnny.
4. Magazine Dreams
"Magazine Dreams" is an American drama film, with the screenplay and direction crafted by Elijah Bynum. 
Having debuted on the world stage at the 2023 Sundance Film Festival on 20 Jan. 2023, "Magazine Dreams" is set to grace theaters in the United States on 8 Dec. 2023, courtesy of Searchlight Pictures. 
5. Poor Things
"Poor Things" is a steampunk black comedy fantasy film set in 2023, directed by Yorgos Lanthimos and composed by Tony McNamara. The film highlights a star-studded cast, including Emma Stone, Mark Ruffalo, Willem Dafoe, Ramy Youssef, Christopher Abbott, and Jerrod Carmichael.
Adapted from Alasdair Gray's 1992 novel of the same title, the story centers on a young Victorian woman who, following her suicide, undergoes a rather unconventional resurrection by a scientist. She then embarks on self-discovery and sexual liberation with a passionate lawyer.
"Poor Things" had its world premiere at the 80th Venice International Film Festival on 1 Sept. 2023, where it received the prestigious Golden Lion award. The film is slated for a theatrical release in the United States by Searchlight Pictures on 8 Dec. 2023, followed by its release in the United Kingdom on 12 Jan. 2024.