American Pie Movies In Order
How Many American Pie Movies are There?
American Pie (1999)
American Pie 2 (2001)
American Wedding (2003)
American Reunion (2012)
Which American Pie is The Best?
American Pie, the original was the best among the entire franchise in our opinion.
American Pie Cast
| | |
| --- | --- |
| Jason Biggs | Jim |
| Eddie Kaye Thomas | Finch |
| Seann William Scott | Stifler |
| Jennifer Coolidge | Stifler's Mom |
| Shannon Elizabeth | Nadia |
| Alyson Hannigan | Michelle |
| Chris Klein | Oz |
| Clyde Kusatsu | English Teacher |
| Eugene Levy | Jim's Dad |
| Natasha Lyonne | Jessica |
| Thomas Ian Nicholas | Kevin |
| Chris Owen | Sherman |
| Lawrence Pressman | Coach Marshall |
| Tara Reid | Vicky |
| Mena Suvari | Heather |
American Pie (1999)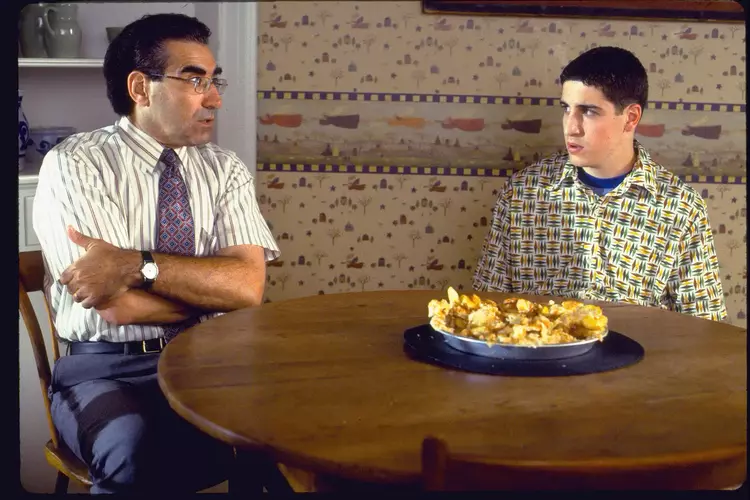 "American Pie" is a comedy film that follows four high school friends who are all destined to lose their virginity by prom night. Despite their best efforts, however, they don't score with the sexy foreign exchange student or the attractive band member who plays the flute. Instead, they try manipulating each other and their classmates to gain love and reputation. As a result, they hire a sleazy person to give them an inflated reputation.
Despite its mediocre plot, American Pie is more enjoyable because of its likable cast and decent direction. Its female characters are given significant weight but are not treated like sex objects, which makes it seem better than other films in the genre. The script by Adam Herz follows four high school seniors, each with their own lusty fantasies, and is a pale imitation of Porky's or Dumb and Dumber.
Although the movie may be rated R, the sexual content is appropriate for teenagers. Nevertheless, it is far too adult for a high school film, and the characters are more sexually advanced than actual teenagers. Still, American Pie observes comedy rules. If you're a teenager, you might be offended if the film has explicit scenes. But if you're a movie buff, American Pie will make you laugh – and keep you in stitches for days!
American Pie 2 (2001)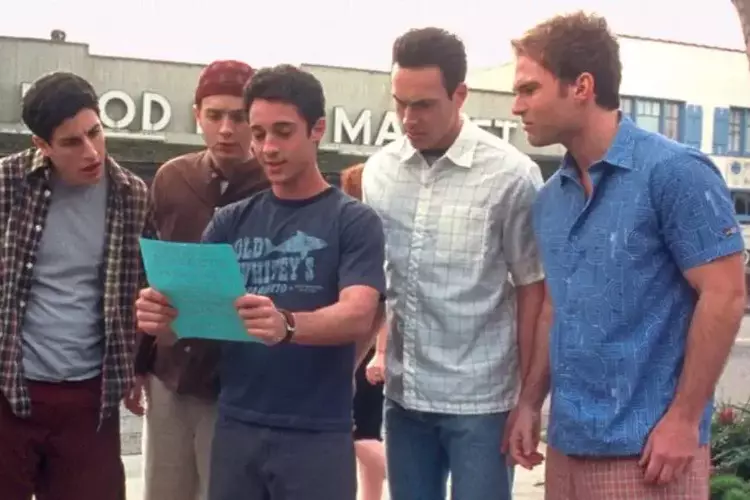 American Pie is one of the best comedies of all time, and this sequel to the 1999 original is no exception. However, it has more crude humor and sex gags than the original and is not a Woody Allen comedy for the faint of heart. This time, the movie does have some redeeming qualities though. Despite the more sexually explicit content, American Pie 2 is still an enjoyable film to watch. If you enjoyed the first film, you should definitely check out the sequel.
The sequel to the first American Pie movie picks up where the first film left off, with the same four friends Kevin, Jim, Chris ("Oz"), and Paul ("Finch"). In this installment, the gang comes back together, and Jim begins a quest for sexual independence. He seeks the assistance of his former prom date Michele, while his girlfriend Tara Reid plans a visit to her old school. American Pie 2 is an enjoyable comedy with some great lines and funny moments.
American Pie 2 is far less fun, sexy, and enjoyable than the first movie. The movie was made to cash in on the success of its predecessor. Yet, the film lacks inspiration. It tries to mimic the outrageousness and vulgarity of the first movie but ends up falling short in the process. It also lacks energy. The movie also suffers from an unimpressive cast. You should avoid American Pie 2 if you are looking for a fun family movie.
American Wedding (2003)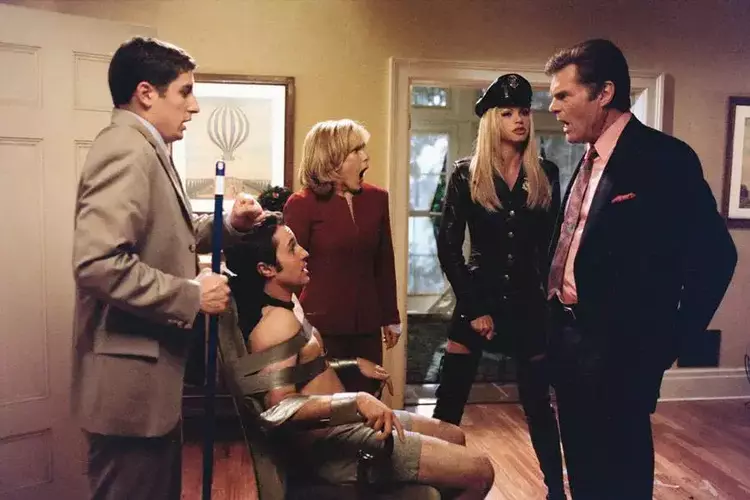 In the third installment of American Wedding, we meet the newlyweds as their bachelor parties wind down. They are joined by Kevin Myers and Paul Finch, who serves as their groomsmen and ushers. Their friend Steve Stifler crashes the engagement party, and the two of them try to keep it from him, which leads to a series of hilarious and romantic moments. The guys also try to hide the wedding from their friends, but they eventually come up with a great idea.
The plot revolves around a wedding proposal by Jim Levenstein to his longtime girlfriend Michelle, who is a Jewish woman. Jim enlists the help of his friends Finch and Kevin to plan the wedding. The wedding is a huge success, but Michelle's paternal grandmother is disapproving of the engagement. While the wedding is a success, Jim's dad accidentally turns on the walk-in refrigerator, killing all the flowers. Meanwhile, Stifler attempts to f**k the bride's sister while Jim tries to keep it a secret.
Michelle's parents are shocked when they find out about Jim's prank. While Jim and the rest of the party try to keep Stifler from interfering with the wedding, Stifler gets sidetracked by a gay bar dance contest and is interrupted by Michelle's parents. In the end, Jim and the rest of the wedding party managed to save their marriage. And the ending is a slap in the face to the wedding industry and marriage.
American Reunion (2012)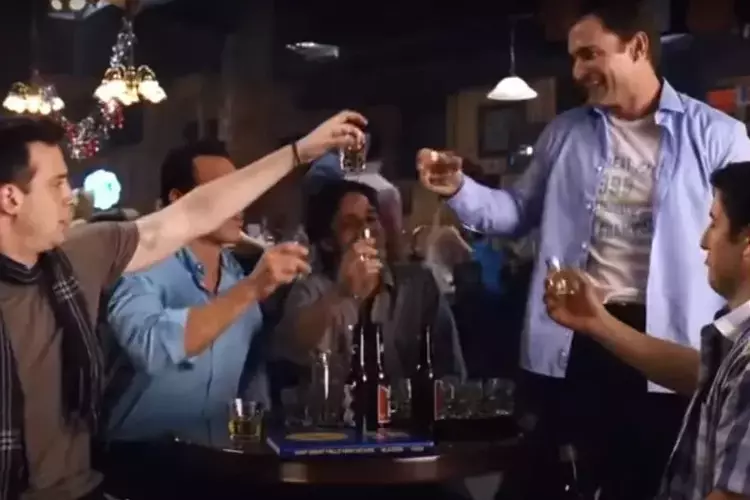 The film American Reunion is an attempt to bring old friends together. The film has a few laugh lines, but a little more. Jim and Michelle rediscover the reasons they married, Oz and Heather try to start a new life together, and Finch and Selena take an adventure. There is also hot sex between Jim's Dad and the movie theater's young ladies, and Stifler hooks up with someone as Karmic retribution.
In the movie, the reunions are arranged in a way that the reunion is both entertaining and nostalgic. The cast of the film is incredibly diverse. The film features several supporting characters from the previous films. Many of them are gay and lesbian, but filmmakers made sure to give each of them their due. While many characters are the same, there are a few surprising twists that will leave you laughing out loud. And remember to take a couple of tissues when you watch American Reunion!
The film's protagonist, Stifler, is still a high school boy, afraid of growing up and settling down. The film is set at a high school reunion when Stifler and his friends can let loose from adulthood and get back to the ways they once did. The film's zany cast is bound to make your sex life a whole lot more entertaining. This movie is a fun movie to watch with family and friends.
Where to Watch American Pie
Netflix has all the main American Pie movies that were really good and based on the original cast. Hulu also has all the American Pie movies but it includes a lot of the newer, but corner versions without most of the original cast members who made the franchise really funny.
Movies Like American Pie
Click here for a list of movies like American Pie