Today we have access to hundreds of amazing online casinos and sportsbooks and it's quite easy to create accounts and have a blast playing video slots, table games, and live dealer games. But there is one drawback⎯this costs money!
So, is there a way to gamble for free without signing up to an online casino? Yes! Through video games! That's right, over the past few decades there have been various video games for consoles and PCs that have had some pretty cool casino features⎯we'll discuss them below!
1. Grand Theft Auto Online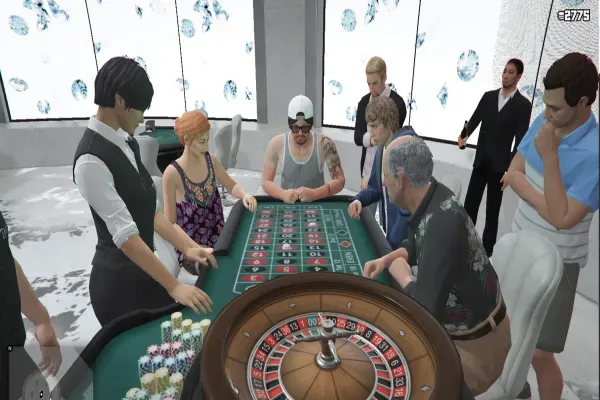 GTA Online is the first example I think of, and it actually had a complete DLC pack that introduced the Diamond Casino & Resort to the game. This was a new area to explore and included a complete casino with a limousine service!
There were plenty of table games and slots to try out and also a lucky wheel feature that you could spin once every 24 hours. The casino was brilliant and when the DLC was launched, the Rockstar servers temporarily failed due to the number of people trying to play!
2. Grand Theft Auto San Andreas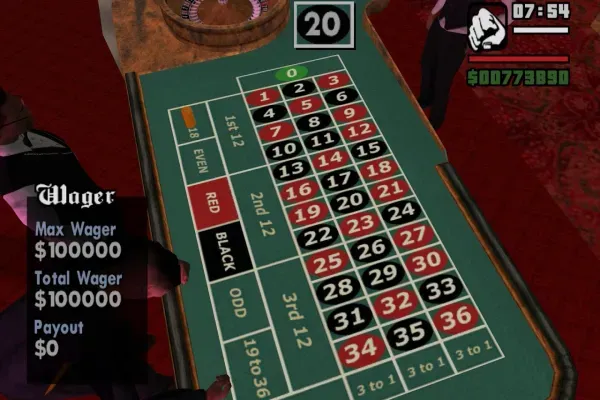 San Andreas is perhaps the best-known game to have casino features, and the blackjack games are actually incorporated into the storyline. You can play other casino games, like roulette, slots, and poker, and even engage in horse race betting too.
The realism of the games will surely give you a taster of a real casino atmosphere and you may even want to check casino games reviews at Sky to see if you want to try your hand at real money betting after making your fortunes in San Andreas.
3. Fallout: New Vegas
"Fallout: New Vegas was another successful addition to the post-apocalyptic Fallout series, and this one was set in and around the wastelands of New Vegas, so it stands to reason that this game had a casino feature! The graphics were great, the storyline detailed as expected, and it was generally well-received.
New Vegas features a fully-fledged gambling game called caravan, a card game that you spend time playing at the start of the game. Eventually, you get to New Vegas and can experience the casinos still standing and play games like blackjack and roulette. Pro tip, if you get your luck meter to 10, it increases your chances of winning at the casino games! (I wish that was a thing in real life!)

If you're a fan of casino games and enjoy the thrill of playing them virtually, you might be interested in exploring real-life online casino options as well. Casino Kingdom, a renowned casino for New Zealand players, offers a wide range of exciting games, including blackjack, roulette, and more. With a user-friendly interface, secure payment options, and enticing promotions, Casino Kingdom provides an immersive gaming experience right from the comfort of your own home.
Whether you're a seasoned player or new to the world of online casinos, Casino Kingdom has something for everyone. So why not try your luck and experience the excitement of casino games both in your favorite virtual worlds and on trusted online platforms like Casino Kingdom?"
4. Red Dead Redemption 2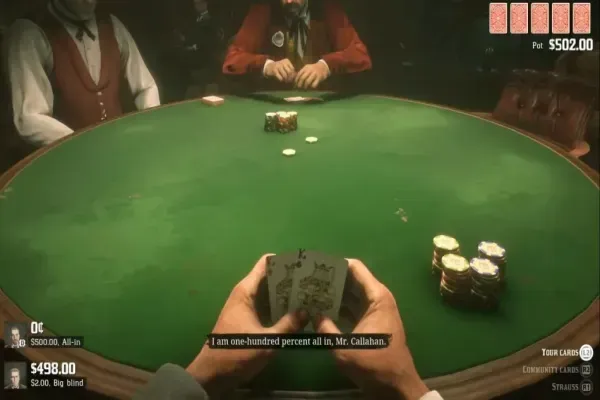 Red Dead Redemption 2 was an incredible follow-up to the popular original from Rockstar Games and once again, this title featured a fantastic story, epic open-world gameplay, and well-thought-out character development.
Throughout the game, you can engage in a range of casino minigames with different characters and locations. These include poker and blackjack, and the old Wild West Texan-style casinos look simply incredible.
While the game rules represented are all real, there is a game mechanism that allows you to cheat, and you can also steal money from the casino as part of the storyline!
5. Pokémon Blue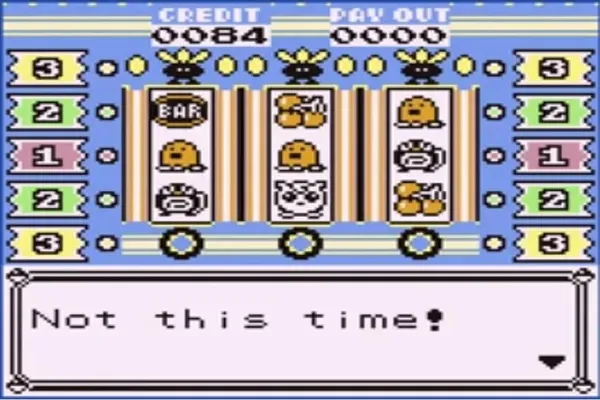 I have spent countless hours in both my childhood and adulthood playing Pokémon Blue on the Gameboy and emulators, and aside from the epic storyline and Pokémon catching, can you remember the Celadon Game Corner slot machines?
Yes! There were a handful of slot machines where you could play and win different prizes. The graphics were, of course, retro, and the reel symbols represented different Pokémon, like Diglett and Jigglypuff. It wasn't extensive by any means, but it was pretty fun to play and spend your coins on!
If you'd forgotten this feature exists, I urge you to dig your Gameboy out or load your emulator and hop onto the original blue or red game and head to Celadon City for some slots action.
Try Out These Classic Games and Enjoy a Slice of Risk-Free Gambling In-game
It's a rarity today that you can actually gamble without spending money, so the fact that these epic titles include gambling features is brilliant. Sure, you had to buy the game initially and this does cost money, but you don't have to spend a dime to play the in-game casino features, so why not go wild and have some fun on them?
My favorite are the slot machines in Pokémon Blue⎯they were just fun to play and offered something radically different from the questing and Pokémon catching. Which is your favorite in-game casino feature? Let us know in the comments!