The Best Movies About Horse Racing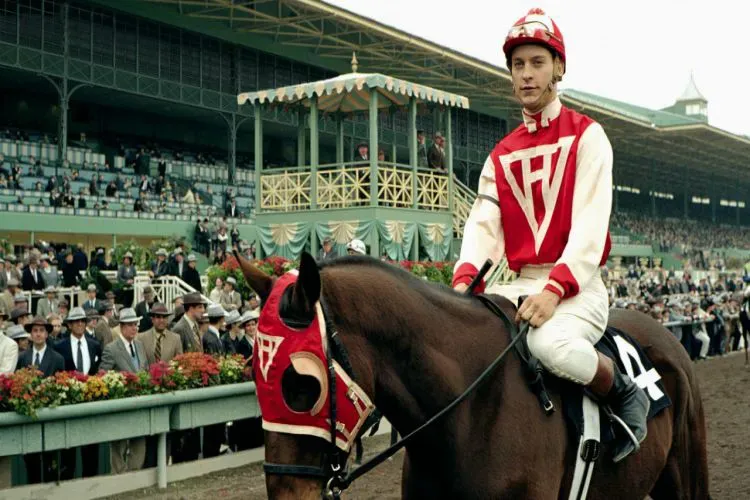 Movies about horse racing have always been popular in Hollywood. As humans, we have always been attracted by the majestic beauty of horses. Their beauty, strength, and speed have been praised in art, literature, and, of course, in movies.
Yet when it comes to horse movies, arguably no sport captures our imagination quite like horse racing.
The excitement of the race, the drama of the competition, and the bond between horse and rider all combine to create riveting stories that have captivated viewers for decades.
While we are on the subject of horse racing, it is a good idea to prepare your bets for the incredible races up ahead on TwinSpires.com.
Therefore, without further ado, here are the top horse racing movies, ranked for your viewing pleasure.
Seabiscuit (2003)
If you're a fan of David vs. Goliath stories, then Seabiscuit is the movie for you! This underdog tale follows a tiny racehorse and his ragtag team of misfits as they take on the big boys and come out on top.
The 2003 film Seabiscuit is one of the most popular horse racing movies of all time. Based on a true story, the film follows the journey of the undersized thoroughbred racehorse Seabiscuit, who despite his physical disadvantages, becomes a racing sensation and a symbol of hope for America during the Great Depression. The movie stars Jeff Bridges, Tobey Maguire, and Chris Cooper, and was a critical and commercial success. Seabiscuit is an inspiring and emotional story of courage, determination, and the power of the human spirit.
Secretariat (2010)
In the world of horse racing, Secretariat is a legend. This is one of the most popular horses that dominated the entire horse racing scene, and even if you are not a horse racing enthusiast, there is a good chance that you've heard this name.
Secretariat is a 2010 American biographical sports drama film loosely based on the life of racehorse Secretariat, the winner of the Triple Crown in 1973. The film was directed by Randall Wallace and stars Diane Lane, John Malkovich, and Dylan Walsh, with Margo Martindale, Kevin Connolly, Scott Glenn, James Cromwell, and Nelsan Ellis in supporting roles.
Secretariat tells the rags-to-riches story of Penny Chenery, an amateur horse breeder who is determined to make her horse, Secretariat, the first Triple Crown winner in 25 years. Despite overwhelming odds, Penny and Secretariat achieve the seemingly impossible and become true champions. The film was met with generally positive reviews from critics, who praised its inspiring story and performances.
With a heart size much larger than a standard horse, the Secretariat managed to set record times that still cannot be beaten.
With a standout performance by Diane Lane and some truly breathtaking racing scenes, Secretariat is a movie that will leave you feeling inspired and awestruck.
National Velvet (1944)
Long before she was known for her Hollywood glamour, Elizabeth Taylor was a horse-loving girl with a big dream.
National Velvet is a classic 1944 drama based on a children's novel by Enid Bagnold. The movie stars a young Elizabeth Taylor as Velvet Brown, a determined young girl who dreams of winning the Grand National steeplechase race in England. With the help of her kindhearted uncle, Velvet and her horse, Pie, make a triumphant journey from obscurity to fame and glory. The movie celebrates the joys of ambition and the power of determination, making it an inspirational and timeless classic.
Hidalgo (2004)
Cowboy hats, mustangs, and sand dunes – what more could you ask for in a horse racing movie? Hidalgo follows the adventures of a cowboy and his trusty steed as they compete in a grueling race across the Arabian desert.
With some thrilling action sequences and a memorable performance by Viggo Mortensen, this movie is a wild ride that will leave you feeling breathless.
Hidalgo is a 2004 American Western adventure film directed by Joe Johnston, produced by Casey Silver, and starring Viggo Mortensen. The film is based on the legend of the American distance rider Frank Hopkins and his mustang Hidalgo and recounts Hopkins' racing of his horse in Arabia in 1891.
The film costars Omar Sharif, Louise Lombard, Adam Alexi-Malle, J.K. Simmons, and Peter Mensah. The film was released by Touchstone Pictures in the United States and United International Pictures in other territories on March 5, 2004. It received mixed reviews from critics but was successful at the box office.
Phar Lap (1983)
If you're a fan of history and horses, then Phar Lap is the movie for you. Based on the true story of an Australian racehorse who became a national hero during the Great Depression, this movie is a powerful and emotional tale of the bond between horse and rider.
Phar Lap is a 1983 Australian biographical film about the racehorse Phar Lap. Directed by Simon Wincer, the film stars Tom Burlinson and Martin Vaughan. The film follows Phar Lap's rise from an ordinary steed to an unbeatable champion racehorse and his subsequent death in mysterious circumstances.
The film was shot mainly on location in Victoria, Australia, and was a significant box office success in Australia, becoming the most successful Australian film of the 1980s. It also won numerous awards, including the AACTA Award for Best Film, as well as being nominated for an Academy Award for Best Original Music Score.
With stunning cinematography and a standout performance by Tom Burlinson, Phar Lap is a movie that's sure to leave a lasting impression.
Dreamer (2005)
What's better than a feel-good movie about a lovable racehorse and the little girl who loves him? Dreamer tells the story of a father and daughter who rescue a racehorse and train him to compete in a high-stakes race.
Dreamer is a 2005 American sports-drama film starring Kurt Russell, Dakota Fanning, and Kris Kristofferson. The story follows a horse breeder, his daughter, and a broken-down racehorse as they attempt to revive the horse's racing career.
The film is an inspiring story of faith, courage, and family, and it shows that with enough dedication, anything is possible. The film features an all-star cast, beautiful locations, and an inspiring story that will leave you feeling uplifted and ready to take on the world. Dreamer is a must-see movie for anyone looking for a feel-good family flick.
With a heartwarming message of hope and perseverance, this movie is a crowd-pleaser that will leave you feeling uplifted.
Final Words
So, there you have it, folks – the best movies about horse racing. Horse racing movies are great just because they all include a fascinating story about the sport where these majestic animals have done something legendary.
Whether you're a die-hard fan of the sport or just looking for a good movie to watch, these movies are perfect for an any-day movie night.