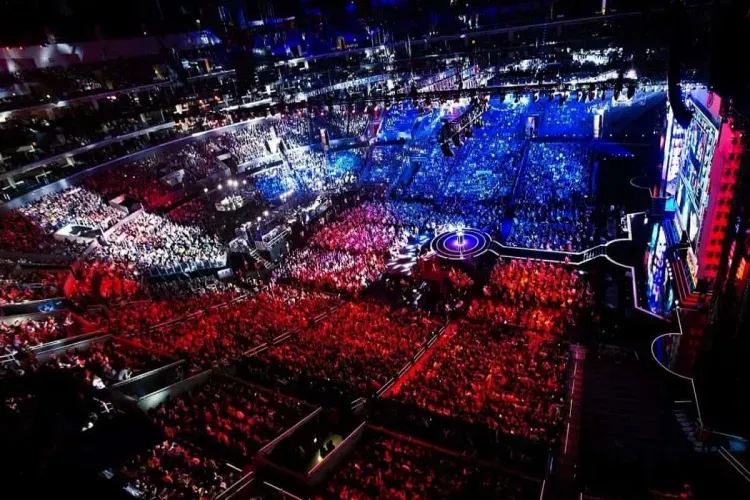 Over the last few years, eSports has become incredibly popular around the world. Attracting tens of thousands of paying fans to live events and millions of viewers, you can now even wager on eSports with online betting.
With eSports taking place in near on every continent, Japan and the US are home to some of the most successful eSports players in the world. Let's take a look and compare some of the best from each nation.
Bugha
Known as Bugha, Kyle Giesdorf became one of the biggest wonderkids in the world of eSports when he won the Fortnite World Cup in 2019. The American recorded 59 points, winning the tournament comfortably by 26 to second placed psalm. For that win he took home an incredible $3m. His area of expertise is of course in Fortnite Battle Royale and for his efforts in 2019 he was awarded the Best eSports Athlete award at The Game Awards.
<iframe width="560″ height="315″ src="https://www.youtube.com/embed/9xAFwERAMHE" title="YouTube video player" frameborder="0″ allow="accelerometer; autoplay; clipboard-write; encrypted-media; gyroscope; picture-in-picture; web-share" allowfullscreen></iframe>
(NINJA VS BUGHA)
Adept at both building and combat, Bugha is still the player to beat in 2023 and the US eSports scene boast the best Fortnite player in the world. He is sponsored by ASUS, Xfinity, Twitch and HyperX among others.
Fuudo
Keita Ai, also known as Fuudo, is one of the greatest fighting game eSports players of all time. The Japanese gamer has been playing competitively since 2005 and is still at the top of his game. Known for his ability on Virtua Fighter and Street Fighter, Fuudo has won numerous tournaments.
Most recently, he won the Topanga Championship 4 in Japan where he played as Poison, Birdie and R. Mika. He is widely recognized as being the best R. Mika player of all time and he is amongst the highest earning Street Fighter players in the world.
Sneyking
Wu Jingjun is the best active American Dota 2 player in the world. Playing for Tundra eSports, Sneyking has amassed earnings totalling way over $1m through his efforts and most recently won the BetBoom Universe: Episode I – Comics Zone tournament. He won his first Tier 1 tournament in 2021 when Tundra beat PSG.LGD 3-2 in the ESL One Fall final.
Sneyking also became the oldest player to win an International when he won The International 2022 when he was 27 years and 180 days old. Dota 2 is notoriously popular in Europe and Asia, so the US eSports scene is lucky to have Sneyking flying the flag.
Shuma "kakip" Kakinuma
Kakinuma is the highest earning active Japanese eSports player in the world. Known for his efforts on the popular digital collectable card game Shadowverse, he is one of the top players in the competitive scene and won the Shadowverse Grand Prix, which had a prize pool of $2,293,296.
He is known for his ability to master all play styles and classes and it didn't take him long to assert his dominance in tournaments after the games release. What he has done for the Shadowverse community as a whole cannot be understated and kakip is a true gem of the community.
Drazah
Zack 'Drazah' Jordan is the best competitive American Call of Duty player in the world. Now playing for Atlanta FaZe, he has won a number of Tier 1 COD tournaments and is one of the highest earning American players of all time. He most recently won at the Call of Duty League 2023: Stage 4 Major where he was playing with the Los Angeles Thieves, beating OpTic Texas 4-2.
His biggest win came in 2022 when he beat his current team Atlanta FaZe 5-2 with the Thieves, winning an eye watering $1.2m. Drazah has dominated in competitive COD over the last few years and now with the legendary FaZe team you can expect even more from the former Alaskan native.
Okumoto "feg" Ryutaro
Another Japanese, Shadowverse player, feg is not far behind kakip in overall earnings and is the second overall highest paid player in Japanese eSports. His biggest win to date came in 2018 when he won $1m in the Shadowverse Grand Prix. He is still playing competitively and will no doubt have his sights set on overtaking Kakip as the highest earning Japanese eSports player.
When comparing the two nations, it is the US that likely comes out on top. This is down to a number of factors but the most discerning is that US players are more adept in a number of different games, and you can see their talent spread more widely. Japanese players cannot be underestimated however and the quality between both nations is clear for all to see.